Jalsha Movies Originals A New Endeavour, as an Ode to the Rich Bengali Theatre Culture on Television
Ambar Bhattacharya, abptakmaa, Kolkata, 10th Nov 2020 : Jalsha Movies has always taken the onus to showcase new blockbusters for its viewers and provide a superior cinematic experience. Replete with cinematic splendour and superior visual experience, Jalsha Movies brings the best of Bengali entertainment to the home of the viewers.
Adding to its vast repertoire of movies across genres, Jalsha Movies has now embarked on a new initiative to restore, recreate and propagate yet another form of storytelling through "Jalsha Movies Originals".
Jalsha Movies Originals is an initiative to capture and restore the art of theatre-making in Bengal and to make it more contemporary, real and appealing to the TV watching millennials, besides making it widely accessible across
Bengal. Bringing theatre to TV in a never seen before, larger than life experience, keeping the essence of stage intact is the sole objective of the endeavour.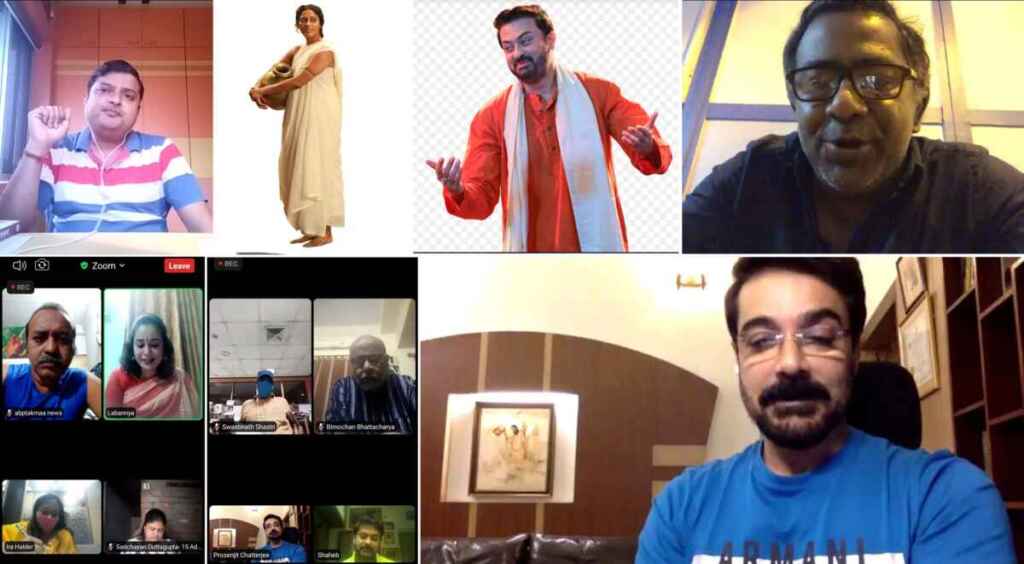 The strength of theatre as a medium of communication and entertainment lies in the fact that as a lively and immersive media it can communicate to people to an extent that cannot be matched by any other form of art and literature. Theatre emerged, when Kolkata was becoming important in the 19th Century as British India's capital and a centre of trade and administration. Popular commercially successful Bengali theatre plays and their success stories are innumerable. The screenplay adaptations from many of these popular plays is not an uncommon phenomenon.
As an Ode to this rich theatre loving culture of Bengal, Jalsha Movies brings to its viewers some of the popular stories in an all new format, Jalsha Movies Originals! Jalsha Movies Originals are theatre plays, which have retained the original text, but making it more contemporary for the newer age audience. These two hour long televised finite stories will
be presented by award winning production house and actors on stage and is sure to delight the viewers with its strong narrative that have stood the test of time.
Talking about the initiative, the spokesperson of Jalsha Movies said: "Jalsha Movies has always stood by its commitment to bring the very best of Bengali Cinema to its viewers in Bengal. In this unique, first of its kind initiative, viewers will witness a blend of Bengali Cinema and Theatre. Presenting theatre plays on Jalsha Movies as Jalsha Movies Originals. With Four Originals slated to premiere on the channel – the first cineplay will be based on the romantic drama, Antony Kobiyal. These gripping popular theatres will surely appeal to the theatre loving and Movie patronising Bengalis alike in both in Urban and Rural markets. With a widespread marketing campaign, we hope 'Jalsha Movies
Originals' will be a pathbreaking storytelling initiative."
The first of the Jalsha Movies Originals is Antony Kobiyal: based on a romantic biography centered
around Hansmen Antony or Firingi Antony, a Portuguese Christian who lived in yesteryears' Calcutta. He adapted and practiced local customs and manners of the eighteenth-century Bengal. He was so allured and influenced by the culture that he started his training in Bengali songs in genre of contemporary kobiyals. Anthony even fell in love with a local widowed lady, Saudamini and eventually ended up marrying her. Antony Kobiyal is a story of this fascinating

journey from Portugese Firingi Antony to Kobiyal Antony, finding love in Saudamini and the challenges he faces in a foreign land.
Original play written by Bidhayak Bhattacharya, this Jalsha Movies Originals, Antony Kobiyal has the presence of ace actors and popular Tollywood celebrities: Saheb Chatterjee, Kharaj Mukherjee & Saoli Chattopadhyay amongst others.
The three other Jalsha Movies Originals following Antony Kobiyal are Baypika Bidae, Joy Maa Kali Boarding
and Srimoti Bhoyankori, scheduled to premiere on the channel around the festive season of November and December 2020. All the stories selected under the umbrella of Jalsha Movies Originals have a strong social relevance even today.
Amongst others, Jalsha Movies has also taken special care to restore the original scripts of the titles with
absolutely zero deviation. The songs in the series have been sung by the actors themselves restoring yet another aspect of theatre.
The first film in the series of Jalsha Movies Originals, Antony Kobiyal, is scheduled to premiere on 15th November 2020 at 8 pm only on Jalsha Movies & Jalsha Movies HD.
Talking on behalf of his production house, Bengali movie icon, Mr.Prosenjit Chatterjee said, "Jalsha Movies Originals, the concept, is indeed original. The concept of blending profession theatre with the technicalities and advancement of movies is a unique concept which appealed to me and I'm sure it will appeal to our viewers as well. Theatres which earlier has entertained millions of viewers successfully and has run for over 400 nights were not available for today's generation. Jalsha Movies has restored and revived the concept of theatre and made it more contemporary. It is new, original and unique and I have always tried to associate myself with all new endeavours which enriches our industry.
This is an innovative and first of its kind initiative of Jalsha Movies to bring together eminent theatre personalities and movie to create something which will uphold Bengal's theatre culture. We have together worked on an experimental new format which has blended the best of various entertainment formats and has given birth to Jalsha Movies Originals. I would like to make a special mention of Padmanabha Das who with his rich background of theatres, movies & serials has helped in recreating the format restoring the original scripts! Viewers can now experience the essence and nostalgia of theatres from the safety and comforts of home! I'm hopeful that Jalsha Movies Originals will touch hearts of millions of Bengalis!" Publicity : Candid Communications.