365oranges.com organizes their mega event titled "365 Oranges Cup 2020"
News Correspondent, abptakmaa, Kolkata, 7th Feb 2020 : The grand finale and prize distribution ceremony of 365 Oranges Cup 2020 was organized by 365oranges.com at FC Block Cricket Ground, Salt Lake recently. Mr. IB Ray, ace Bengal Ranji trophy player and selector along with Mr. Joy Chatterjee, CEO, 365oranges.com were present at the prize distribution ceremony of the mega event.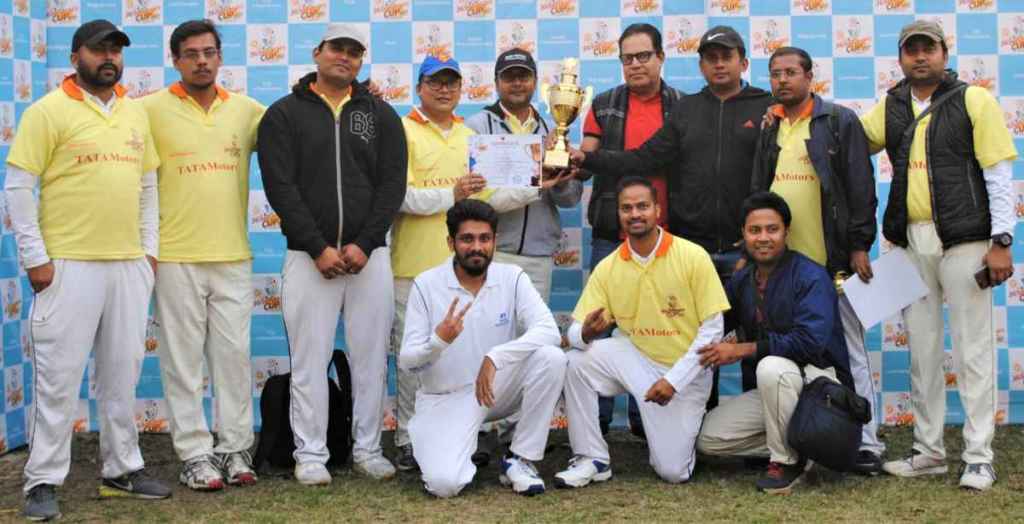 "365 Oranges Cup 2020", the Corporate Cricket Tournament was observed through consecutive 3 week from 18th January to 2nd February, 2020 at FC Block Cricket Ground. The tournament was between 16 multinational corporations included   IBM (2 teams), Haldia Petrochemicals, Exide, Century Ply, Motilal Oswal, Tata Motors, ARW, CRS, TCG Lifesciences (2 teams), Fitek, TCG Digital, Acclaris, Digital Aptech, Brainium. The 16 corporate were divided into 4 groups and the entire tournament was played in new white deuce ball each innings of the match, 365 Oranges Cup coloured jerseys only on Saturdays and Sundays this year.  All league matches was for 6 over per innings on the 18th January, 19th January, 25th January, 26th January, 1st February and 2nd February 2020. Top 2 teams from each of the 4 groups had to qualify first for championship quarter finals and the bottom 2 teams had played the plate quarter final.  The semifinal and final matches was held on Sunday, 2nd February 2020.

Speaking on the occasion, Mr. Joy Chatterjee, CEO,  365oranges.com  said, "This immensely popular teenage corporate cricket tourney (sixteenth edition) is somehow similar to the Durga Puja, which resembles with this 6 day cricket tournament. Over the last sixteen years journey, we have seen corporate are taking it quiet seriously and the matches are getting competitive day by day .Even eminent cricket like Deep Dasgupta,I B Roy, Abhishek Raman and many more have represented their corporate team .We are pretty bullish  in the coming years it will be regarded as one of the most prestigious corporate cricket across India."
About 365 Oranges Cup: 365 Oranges Cup was initiated by  365oranges.com in the year 2005 where over 75 corporate have participated so far since its inception.

Please find the summary of 365 Oranges Cup 2020, a 6 a-side corporate cricket): Result
TCG Lifesciences terrific hitters are the champion of 365orangescup 2020 and IBM BLUE 2nd best team of 365orangescup 2020
(In the final IBM Blue batting first scored 93 runs but TCG Lifesciences Terrific Hitters chased the target in the last ball thriller by 2 wickets)
 TCG Lifesciences Trophy Fighters are the plate champion and Tata Motors are the second best team in the plate
K Saha of TCG Terrific Hitters won the player of the tournament award, while Saikat Bala of TCG Trophy fighters won the Best Batsman award and Avijit Sirkar of IBM Blue won the Best Bowler award. Publicity : Candid Communication.