Anneysha and Aakanksha celebrates Holi with senior citizens at Snehodiya
Ambar Bhattacharya, abptakmaa, Kolkata, 6th Mar 2020 : On the occasion of Holi  Renowned Emcee Mrs. Anneysha Thakker and Mrs. India Worldwide East 2018 Aakanksha Manglani celebrated holi with the Senior Citizens in the presence of  Mr. Vinod Lahoti, Past President of Rotary Club of Calcutta Yuvis, Ms. Momm Ganguly, Famous dancer today at Snehodiya .
Holi is known as the Festival of Colors. The vibrancy of colors is something that brings in a lot of positivity in our lives and Holi being the festival of colours is actually a day worth rejoicing.  Renowned Emcee, Mrs. Anneysha Thakker and  Mrs. India Worldwide East 2018,  Aakanksha Manglani joined hands together and took an incredible initiative to celebrate this Holi with the Senior Citizens and with the Widows of Snehodiya and breaking down the stereotype they wanted to  showcase that even the widows have the right to play with colours. Orthodox families demand that women renounce earthly pleasures after the death of their husbands and live out their days in worship. The participation of widows in Holi symbolises a break from tradition, which forbids a widow from wearing a coloured saree, among many other things.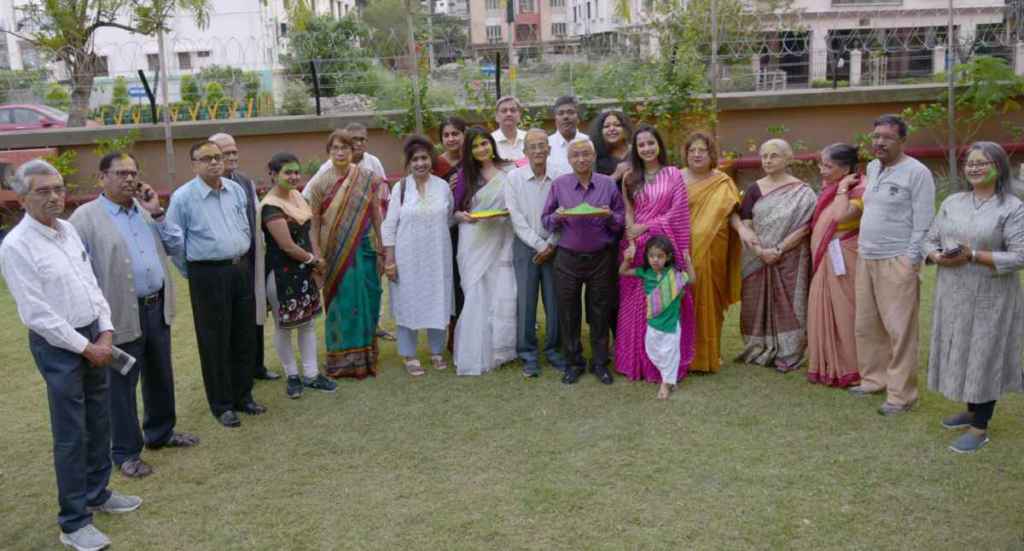 Speaking on the occasion, Mrs. India Worldwide East 2018, Aakanksha Manglani, "It's the festival of colours and having fun with buckets of water but most of all Holi is about having fun with your loved ones – age no bar whatsoever. It feels really good to be a part of this initiative with Snehodiya which highlights that you are never too old to play Holi. Let's play this Holi this year with lots of hope and happiness."

Mrs. Anneysha Thakker, further added, "Holi is the festival of colours. We celebrate it with our loved ones with great enthusiasm. But today our generation tends to ignore the most important people in our lives; those who gave birth and brought us up! To put a stop to this attitude, this year I thought of beginning Holi celebrations with elders in Snehodiya. I strongly believe that festival should be celebrated in the way one feels. It should not be depended on societal norms. The age of an individual, their marital status or any other background should not stop them from living their life to the fullest!"
 There were 19 members from Snehodiya who joined in this Holi celebration and enjoyed every bit of the celebration. They sang songs and played with colours and it was a merry day for them. They shared their special memories regarding Holi with their families. Publicity : Candid Communication.