Kareena Kapoor Khan's new episode with Tapsee Pannu in her popular show What Women Want in 104.8 Ishq FM
News Correspondent, abptakmaa, Kolkata, 30th Jan 2020 : She is unconventional, outspoken and practical to the very T. Taapsee Pannu is one actress who has not only won the hearts of millions through her powerful performances in movies like 'Pink' and 'Naam Shabana', but has time and again spoken about the prevalent issue of women's safety and their empowerment at length. The bold and versatile actress spoke to none other than well-known actress Kareena Kapoor Khan on 104.8 Ishq's What Women Want 2 about women's safety, any personal incident experienced, the kind of roles and films she has done among others. Having faced incidents of eve-teasing and harassment in the past, the actress raised the importance of not being a mere spectator during an incident and instead take control of the situation and take the perpetrator to task. Calling out women to come out and fight back, Taapsee's message to the women out there was no less than inspiring.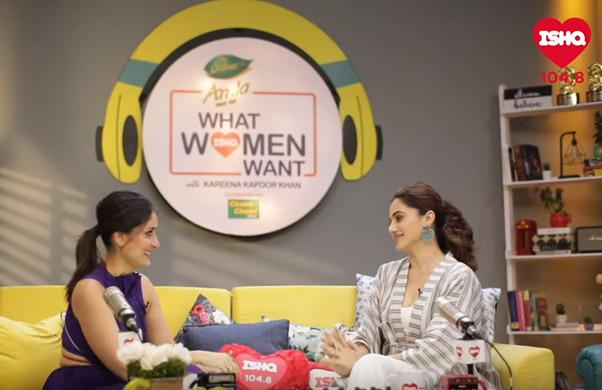 When asked about women's safety, Taapsee quoted an incident which took place in Delhi and how she took charge. "We used to go to Gurudwara during Gurpurab and I remember there used to have stalls next to it that served food to people outside. The place used to be crowded in such a way that people would always end up bumping into each other. I had awkward experiences before this incident as well. But this time, I had an intuition that something like this would happen as I am going into that kind of crowd. I was mentally prepared for it until I felt a man trying to touch my backside. That's when I realized that this has happened again. This was followed by an instant reaction. I grabbed his finger, twisted it and moved fast from that area." she said.
Highlighting the whole critical issue including how people mindset needs to be changed, she spoke her heart out on the show and left viewers asking for some more.
Stay tuned to season 2 of What Women Want with Kareena Kapoor Khan on Ishq's YouTube channel every Thursdays and on-air from Monday to Friday at 8 pm and 10 am. Publicity : Eastman Communications.