"Murshidabad Heritage Festival 2020", organized by Murshidabad Heritage Development Society, from 24th to 26th January
Ambar Bhattacharya, abptakmaa, Kolkata, 24th Jan 2020 : "Murshidabad Heritage Festival 2020", organized by Murshidabad Heritage Development Society, has been scheduled from 24th to 26th January 2020 in the erstwhile Capital of United Bengal – the most prosperous part of Mughal Empire.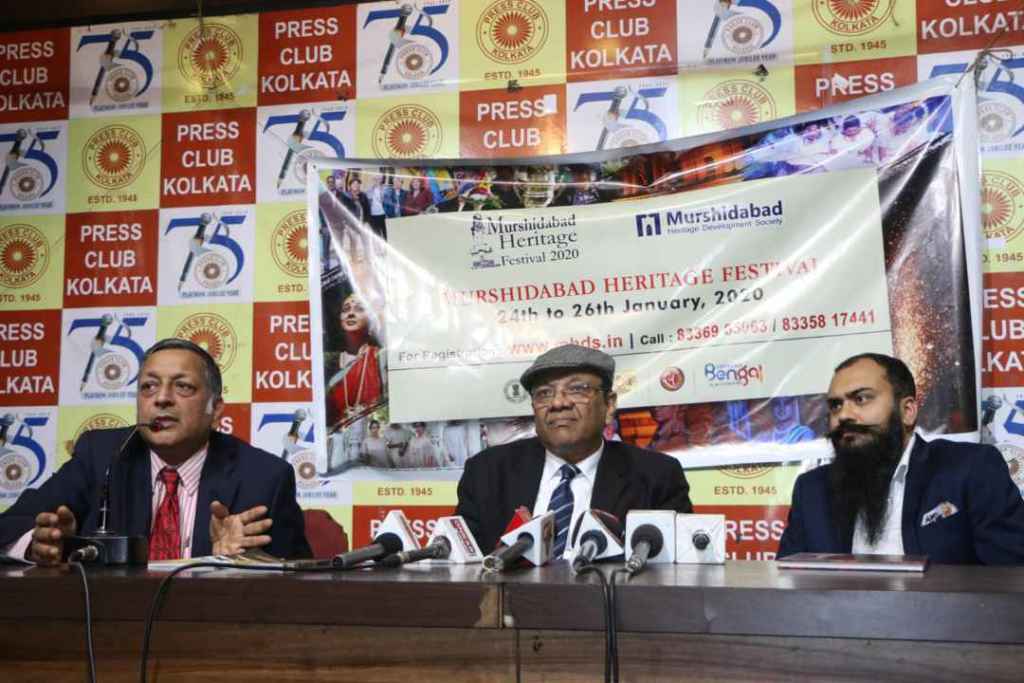 The last Independent capital of Bengal, Murshidabad is located on the eastern bank of river Bhagirathi. Till the first half of the 18th century, Muksudabad/Maxudabad (now Murshidabad) was a place of international importance for trade, business and noblemen. About 315 years ago, Murshid Quli Khan, the Diwan of Bengal under the reign of Mughal emperor Aurangzeb moved his capital from Dhaka (now in Bangladesh) to the fertile place on the banks of Bhagirathi – 'Muksudabad' and named it "Murshidabad" (after his first name – Murshid). In 1716, he attained the title of Nawab of the Subah (ruler of the province).
From palaces to mosques, from temples to royal mansions, this place by the banks of Bhagirathi has also been known for arts and crafts, jewelry and cuisine. The place still has gold and silver embroidery and silk weaving industry and several places of historic interest.
The festival would take place at the recently restored Katgola Palace in Lalbagh, (Murshidabad) which is surrounded by Palatial building of the by-gone era showcasing the amazing fusion of Mughal, British and Hindu Architecture. The festival is being celebrated since past 10 years with the main objective of restoring and reviving the heritage; giving new lease of life to its forgotten stories and legends. It is intended to bring back its past glories integrating it with the present with an effort to conserve the fast vanishing skyline.
The festival promises to visually and aesthetically provide a splendid experience for the people to feel & sense the beauty and charm of this forgotten capital city. The trip first involves a visit to recently restored Bari Kothi at Azimganj, which showcases the conservation of its built heritage.
The program unfolds from the 24th January, includes Tour and Lunch at Cossimbazar Rajbari, followed by sightseeing of Heritage monuments, palaces and museums, visit to Kathgola Palace and Garden, visit to Lalbagh for Folk Artists, Craft Bazar, Hi- Tea, Cultural Program – Chhou Troupe, Raibenshe Troupe, Odissi dance, Fashion Show and Sheherwali Gourmet Cuisine Dinner, later followed by fireworks.
The next day shall commence post breakfast with Heritage Walk in Azimganj, Sheherwali Gourmet Cuisine Lunch, Boat Race and Kayaking display, Tour of "Tanti Para" (weavers' locality), a visit to Jiganj Museum and with once again high tea, closing up with Light and Sound Show along with delectable dinner.
The last day of the festival, that falls on the 26th January, will conclude with a visit to Hazarduari Museum as well as providing a sumptuous Sheherwali Cuisine Lunch.
The festival particularly aims to attract students, history lovers, heritage enthusiasts, investors, travel & tour agents and also the general tourists.

The forgotten capital city of Bengal, Murshidabad, having a special place in India's history and in everybody's heart also is of great importance for every Indian to deeply feel the need of preserving, conserving and protecting the rich culture of the nation and its heritage to make people take pride in their uniqueness and enduring values.
Bengal, mainly the Murhsidabad district, single handedly was responsible for 20% of the Indiana GDP and staggering 5% of the world market. When speaking of Bengal, Varthema, an Italian traveler said, "there was an abundance of merchandise in the port of Bengal especially in cotton and textiles". Ship building too was a thriving craft and proving to be a significant economic activity. Jaoe De Barros, a Portuguese traveler referred to Bengal as a principal centre for trade. The Kashmiris, Multanis, Afghans, Shaikhs and Bhutias carried out trade in Bengal. The traders of Bengal began to expand their operations throughout the country from Nepal, Kashmir and Uttar Pradesh to Maharashtra, Karnataka and Sri Lanka.
By the mid 18th century, Murshidabad had lost much of its strength as a place of political power. Sixty six years of golden era in Murshidabad collapsed after the famine of 1770, with little regard to the welfare of the people by the administration. Massive structures, temples and mosques continued to be built. By the late 19th century, almost a century later, railways ran on both sides of the Bhagirathi River. In 1896, Murshidabad was constituted as municipality and remains important till date as a place of historic importance. Publicity : Myoho Production.