Odisha Tourism showcases its offerings in the City of Joy Kolkata, infuse Rs 500 crore to develop new tourist destinations in Odisha
Ambar Bhattacharya, abptakmaa, Kolkata, 6th Sept 2019 : Recently Tourism Minister of Odisha Shri. Jyoti Prakash Panigrahi led a delegation to its Kolkata roadshow, conducted by industry major FICCI. The guests present at the roadshow are Jyoti Prakash Panigrahi (Odisha Tourism Minister), Vishal Dev (Commissioner cum Secretary Odisha Tourism), Nirmal Chandra Mishra (Director, Odisha Tourism and MD, OTDC) and Mousumi Ghosh (Asst. Gen. Secretary, FICCI).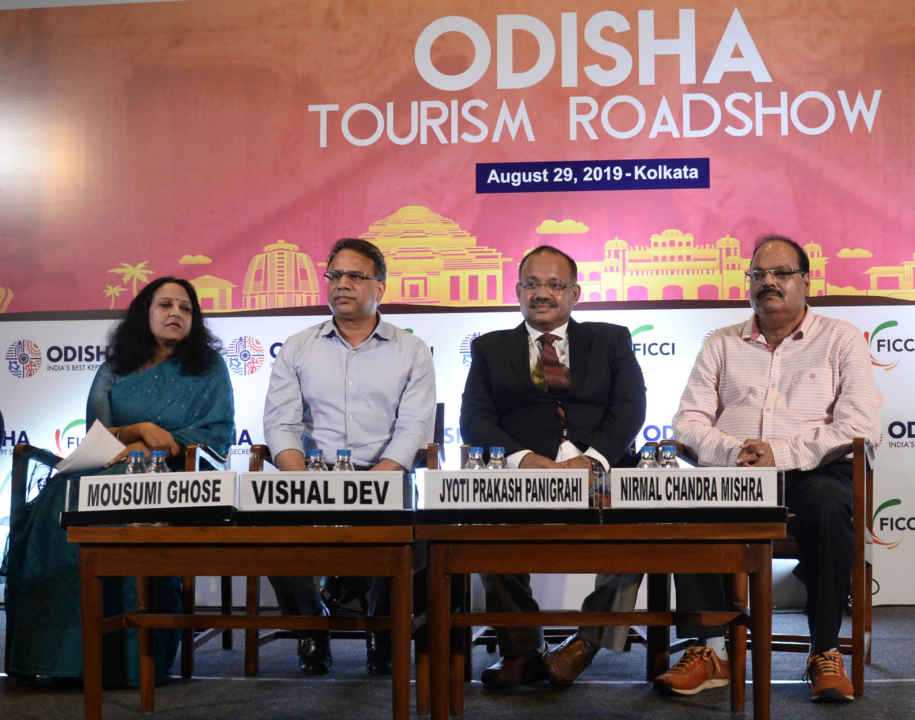 The state's ongoing campaign has successfully concluded roadshows in Mumbai, New Delhi, Kochi (Kerala), and now Kolkata including rapid B2B networking meetings between travel, apart from select meetings with investors and brands looking to enter Odisha's tourism and hospitality sector.
Commissioner cum Secretary  Shri. Vishal Kumar Dev IAS initiated the presentation, by highlighting the key offerings of Odisha across segments such as heritage tourism, ecotourism, ethnic tourism, and spiritual tourism amongst others.
Shri. Dev, who is also in charge of the Sports & Youth Services Department, is known to have led Odisha's emergence as India's most vibrant sporting destinations, a key factor for enhancing the state's global brand image and boosting foreign tourist arrivals.
"Bhubaneswar, one of India's smartest and most liveable cities, is being increasingly connected to other parts of India and the world. It is this city which received commendations from the sporting world's who's who for conducting arguably the best sporting events ever in the form of the Odisha Men's Hockey World Cup 2018, following the stellar organisation of the Asian Athletics Championships 2017. This year's successful organisation of the Commonwealth Table Tennis
Championship and the much anticipated FIFA U-17 Women's Football World Cup 2020, we hope to preserve the global spotlight on India's Best Kept Secret. Orissa Govt is infusing Rs 500 crore to develop new tourist destinations, including adventure sports in the state," said Shri. Dev.
Hon'ble Tourism Minister, Shri. Panigrahi said," Our government will spend Rs 100cr and it has been earmarked for developing roads and budget hotels for Talsari, Udaipur and Chandaneshwar adjacent to Digha. Orissa Government has very recently engaged NBCC to submit a master plan for the project.
"We are especially focusing on segments like ecotourism, ethnic and handicrafts tourism, besides capitalising on niche segments like heritage homestays and adventure tourism, so that more tourists can explore the unexplored parts of Odisha — apart from the most popular destinations like Puri and Konark," Shri Panigrahi added further.
The Tourism Department's presentation highlighted the key facets of Odisha's tourism potential starting from stunning naturally endowed locations and sprawling biodiversity to significant monuments and unique art and craft. The Government has already expressed its intent to encourage exciting experiences like houseboat tourism and caravan tourism.
Odisha, which witnessed 1.5 crore tourist footfalls in 2018, hopes to see the numbers rise to over 2.5 crores in 2021. The state boasts some exciting tourist circuits including diverse wildlife tours across 18 protected areas and two national parks, an enigmatic Buddhist circuit, apart from the spiritually exhilarating Golden Triangle Heritage Circuit of Bhubaneswar – Puri – Konark.
Among the key initiatives of the Department of Tourism is its virtual tourism drive, centred on its award-winning website odishatourism.gov.in. Built on the Adobe Experience Manager (AEM) platform, its capabilities in stakeholder engagement, multimedia information management and analytics Odisha Tourism hopes to reach a wider national and global audience with greater accuracy, and attract larger numbers of medium and high spending tourists. The website offers a portal for travel agents and hoteliers to register and publish their Odisha packages.
The Kolkata roadshow assumed a major significance since its residents contribute 14% of Odisha's annual tourist visits. Entrepreneurs and investors based in Kolkata and other parts of West Bengal will be key players in Odisha's quest to maximise its tourism experiences through niche tourism products. Photography : Chuni Pal and Gopal Debnath.