Rubaru Mrs. India 2019 Announces its Winner from Kolkata
Ambar Bhattacharya, abptakmaa, Kolkata, 13th July 2019 : Rubaru Mrs. India is a pan India initiative by i-Glam. What sets this beauty pageant apart from the others is that this pageant just doesn't talk about beauty, but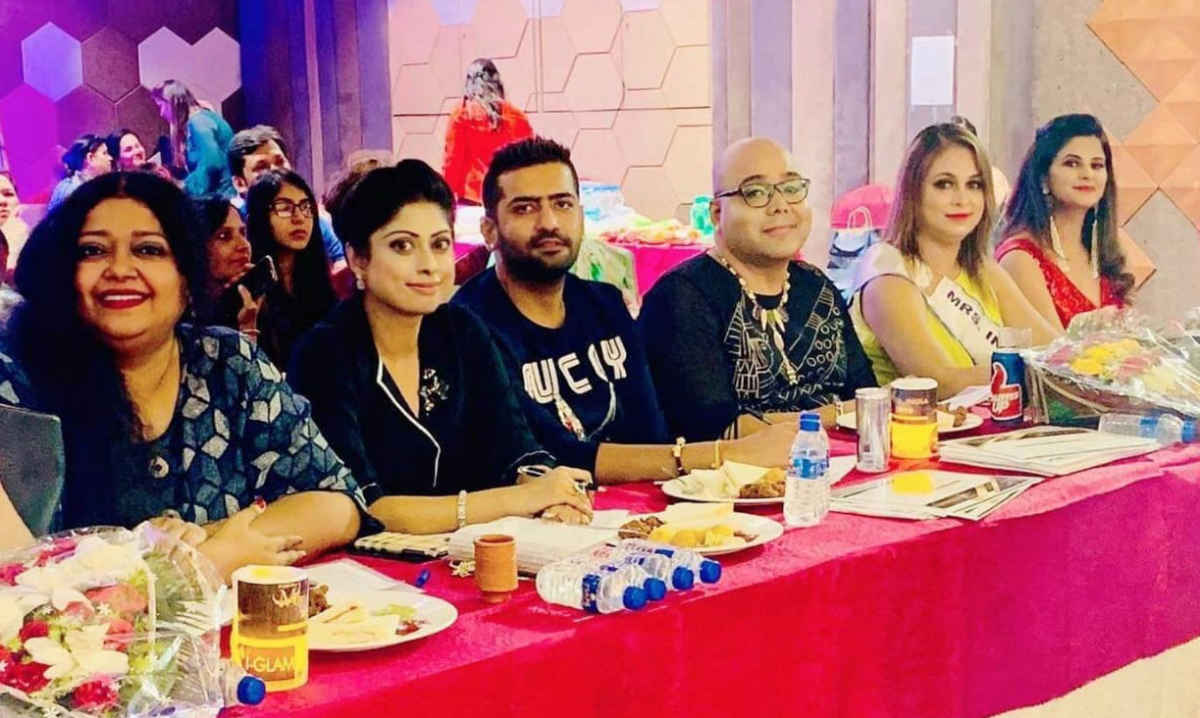 also about the heinous crimes happening in the society. Though this is the second edition of Rubaru Mrs. India, i-Glam has brought this to Kolkata for the very first time. As the tagline says, "Beauty with Responsibility", the pageant has shown a social responsibility towards creating awareness about crimes like Female Foeticide and Domestic Violence. The pageant committee invited applicants from every walk of life and especially those who have fallen prey to domestic violence. An out of the box initiative of this pageant was to felicitate women with fighting spirit. The pageant gave recognition to the courage of acid attack victims to fight back the atrocities of life and get back in the main stream. Rubaru this day also felicitated the much-talked-about woman Rupa Chowdhury who has broken the stereotype and become the first app bike driver of Kolkata. Rubaru recognized these women as the flag bearers of "Shakti" and felicitated their fighting spirit.
Ddevjani Mitra, Managing Director, i-Glam said, "We believe that womanhood is the symbol of Shakti. Even in the age of globilisation crimes
like child marriage, domestic violence, dowry system, etc are happening in the society. While women have reached space, people with narrow mentality still believe that women are meant to be confined to kitchens. So, we decided to show respect to Rupa Chowdhury, who has shut the stereotypes with her professional choice. The way hunger and passion don't see gender before coming; we also should not see the gender as far as profession is concerned".
Lopamudra Mandal, Mrs. India IAB 2018 (First Runner Up) said, "We definitely want women to be empowered, but not just by talking about it. We want them to cross the hurdles on their way and make a fresh start. But, just wanting doesn't make a change. Changes come with effort towards
execution of the thought, and Rubaru Mrs. India has shown that effort. A lot of beauty pageants do happen now a days, but Rubaru is walking towards execution of a popular proverb in reality, that says, "beauty lies in the eyes of the beholder". The stereotypical definition of beauty is very narrow and bodily. However, superficial beauty is basically equivalent to zero without any confidence and courage. Now as these two things are internal, these can't be created with any make up. These two things are in born and thus don't necessarily have to be proportionate to the so called picture perfect look. It's just that these women need to be recognized and respected for the respective talents that they have. I think in that way Rubaru Mrs. India is doing a great job to find out women with out of the box attitude towards life. I am hopeful that other will learn from it".
Designer Indroneel Mukherjee was quoted saying, "We can't just keep on blaming the society for anything that goes wrong. Society definitely has to change but that will happen only with education and proper awareness. All of us can put in little effort to create awareness at levels possible for us. A society is made of several individuals and not anything else. So, if we start taking steps at home and create self awareness or a lot of issues will be solved".
Pankaj Kharbanda, Vice President, Rubaru Mrs. India, said, "A lot of obstacles come on your way if you are woman and especially if you are married. However, a lot also depends on how you as an individual deal with that. If you give up then people who are making your life difficult will tend to think you weak and go on pressurizing you about silly things. The natural tendency of nature is survival of the fittest. So, we have to decide whom to make fitter, "Me" or "Them"? I am sure that this sort of an initiative by i-Glam and Rubaru, will really help some women if not all to leave the obstacles back take one little step towards exploring  self qualities. The winners for Top model of Bengal is Rakhi Jain, Mrs West Bengal goes to Kirti Kumari and Face of Bengal goes to Sinjeeta Das. The judges to this peagent show were Lopamudra Mondal (Mrs India IAB 2018 First Runner Up), Paromita Ghosh, Indraneel Mukherjee, Pankaj Kharbanda, Sutapa Banerjee (Mrs India Courageous 2018) and Teena. Publicity : Candid Communication.