Satya Paul AW'19 Collection – The Folklore at Quest Mall
Ambar Bhattacharya, abptakmaa, Kolkata, 6th Nov 2019 : Dropping into select Satya Paul stores this season, is a limited-edition range of hand painted saris that reinterpret Gondh, Kalamkari and Madhubai to appeal to art lovers and fashionistas alike. Inspired by the bold colours and graphic strokes of these three unique folk styles, the collection is a nod to the artisans that painstakingly continue to keep their traditions alive and uphold their craft right until this day. Vibrant, yet elegant and graceful, these saris help make a statement in true Satya Paul style. The hand painted saris are individually numbered and will exclusively be available on pre-order. Models present to showcase the collections were Pinky Kenworthy, Adolina Ganguly, Rita Bhamani and many others.
In addition to the hand painted saris, the autumn winter 2019-20 collection also comprises printed saris, ready-to-wear tunic-palazzo sets, stoles, scarves and shawls in signature prints made to complement any social situation.
The menswear edit of the collection serves up understated luxury with a range of fine cufflinks, leather belts and wallets, pocket squares and graphic ties.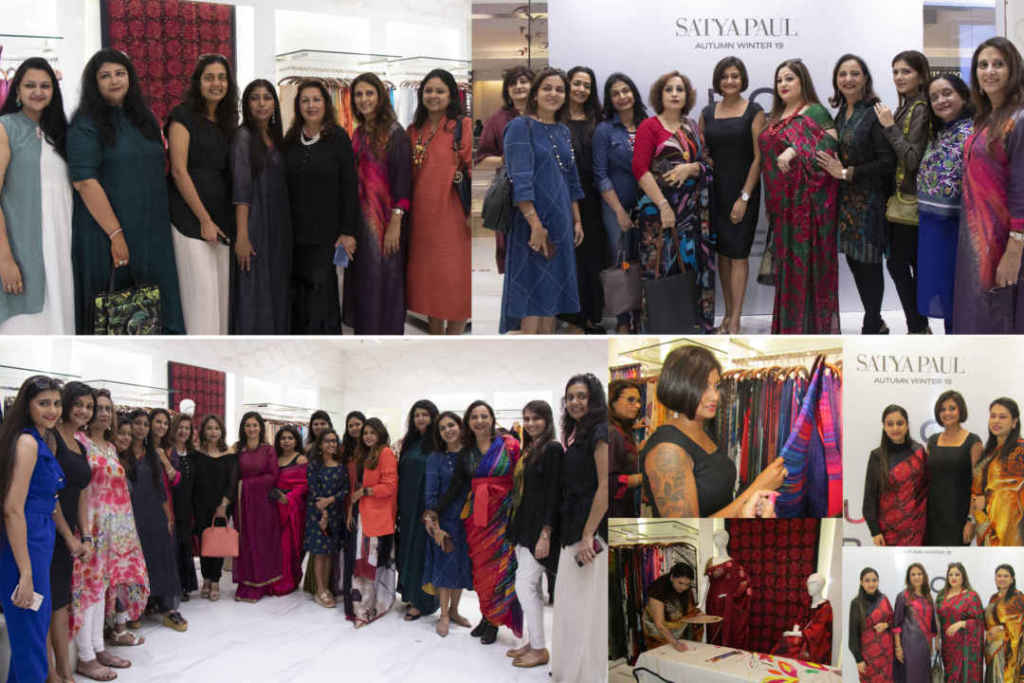 INSPIRATION AND PRINTS :
The designs lay emphasis on prints and crafts like hand drawn modern and geometric textures in the form of Gondh, abstract and narrative art with detailed motifs and contemporary folk in the form of Madhubani and an interpretation of fusion and contemporary chintz detail in the form of Kalamkari.
COLOURS:
The Autumn Winter 19 collection showcases a plethora of contemporary designs across a bright and vivid colour palette incorporating a brilliant mix of rich and diverse hues.
FABRICS:
The collection is crafted using a wide range of fabrics like georgette satin, crepe, silk linen, banarasi, muga and satin showcasing effortless opulence.
With an awareness of the ever-changing needs and desires of modern women and men, Satya Paul effortlessly places contemporary style through thoughtful design this season. Satya Paul's AW'19 Folklore collection is available at all stores across India and online on www.satyapaul.com. Publicity : Digital Brandz.