Superstar Prosenjit unveils Shyam Sundar Co. Jewellers' exclusive calendar on Diamond Jubilee
Ambar Bhattacharya, abptakmaa, Kolkata, 19th Dec 2019 : One of the most premium heritage jewellery brands in Eastern India, Shyam Sundar Co. Jewellers unveiled their Diamond Jubilee year Calendar in the august presence of Tollywood Superstar Prosenjit Chatterjee along with Shri Rupak Saha and Mrs. Arpita Saha, Directors of Shyam Sundar Co. Jewellers at ICCR yesterday.
Some landmark milestones initiatives taken by the jewellery house will be showcased in the calendar to celebrate all the glitter and glow in the society.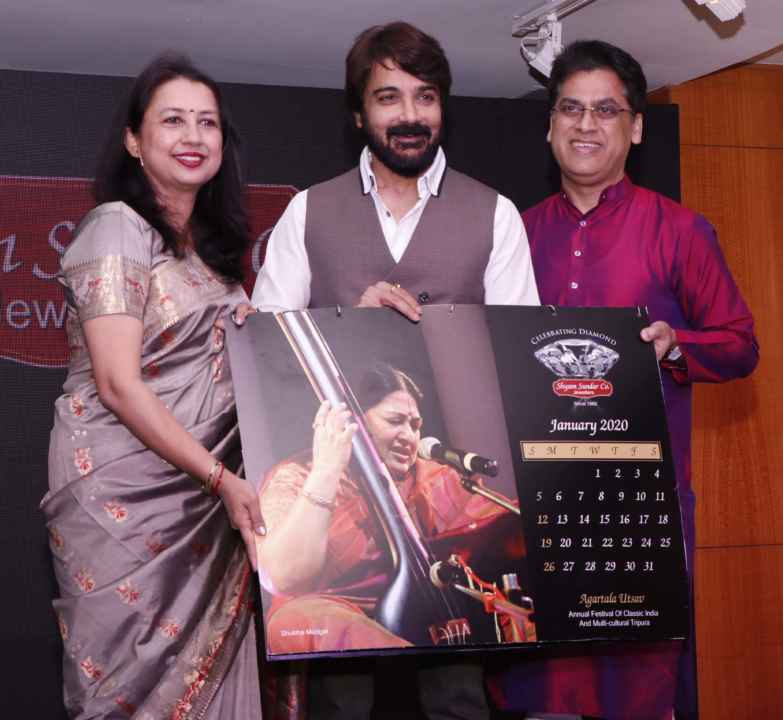 Speaking on the occasion, Shri Rupak Saha, Director of Shyam Sundar Co. Jewellers said,"At Shyam Sundar Co. Jewellers, we are deeply involved in meaningful welfare driven initiatives that impact lives and pave for the holistic development of our society. The calendar will showcase a glimpse of all the initiatives which are taken by the brand. It gives me immense pride to see the outreach of the initiatives touch more and more lives every year. Going forward, we intend to further strengthen the vibrant culture of our responsibility. With the launch of the calendar, I am also wishing all the luck of the team of 'Robibar' for the film.
"I am extremely happy to have been associated with such a brand for many years who takes the responsibility of the society for its betterment and search for the opportunity to participate. The team of 'Robibar' and I are very happy to be present here for the launch of the Diamond Jubilee Year Calendar of Shyam Sindar Co. Jewellers today. I wish Mr. and Mrs. Saha for completing sixty glorious years in the industry and also hope for more success" said, Superstar Prosenjit Chatterjee.