I am a full hearted Bengali then an Indian says Sourav on unveiling TSK 25K at Kolkata will held on December
Ambar Bhattacharya, abptakmaa, Kolkata, 16th Sept 2019 : Procam International, the pioneers of the distance running movement in India, announced that registrations for the Tata Steel Kolkata 25K scheduled for December 15 are now open. In its sixth edition Tata Steel Kolkata 25K attains a new milestone; becoming the world's only International Association of Athletics Federations (IAAF) accredited 25K to be accorded the prestigious 'Silver Label'. The new jewel in the crown 'Silver Label' has cemented the event's name in the league of the "leading road races around the world." Guests present today were Vivek Singh-Jt. MD, Procam International, Vineet Agarwal, CEO – T10 Sports, Sourav Ganguly-Face of the Event, , Chanakya Chaudhary, Vice President (Corporate Services), Tata Steel and Lt. General R P Kalita AVSM, SM, VSM, Chief of Staff, Eastern Command, Fort William, actor Samrat Mukherjee, actress Adolina Ganguly and ors.
Registration for all race categories will commence on Tuesday 17th September
Fast&Up on-board as the Energy Drink Partner and T10 Sports as the Sportswear Partner
Ananda run in a new avatar
Exclusive T10 Sports Race Day Tee for all 25K participants and Finishers tee for overall top 790 men and 190 women Open 10K finishers.
#FeelTheSpirit – TSK25K is not just about the distances, hours, endurance and fitness, but also about people, place and times. It is about rhythms–the individual and the collective. And nothing evokes the latter better than the wondrous city of Kolkata. The event is a celebration of the abled and the differently abled; fundraisers and volunteers; armed forces and city authorities; local artists and sporting greats; from all walks of life; the young and the young at heart. Not just along the race route, but from the four corners of the city and further. Not just during the race, but much beyond.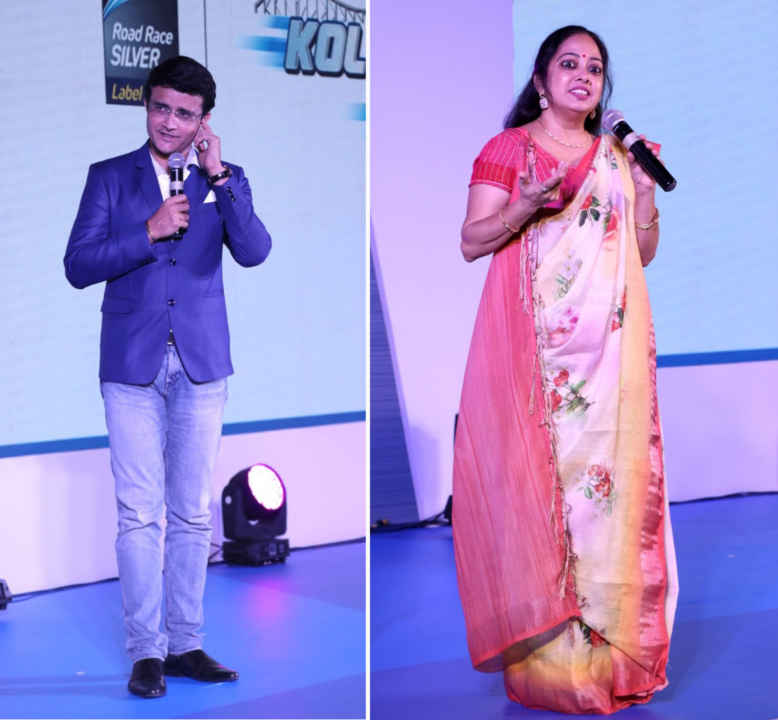 TSK25K embodies the emotions this unique event evokes, in the city that is its home – KOLKATA. There's a saying in Bengal—"Baro Mashe Taro Parbon" (13 festivals in 12 months). However, this festival is different, it celebrates the unified sporting spirit of the people, without exclusion and without taking sides. This year at the Tata Steel Kolkata 25K – #FeelTheSpirit
The USD 100,000 race is expected to witness over 15,000 runners across five categories, i.e. 25K Run, Open 10K, Ananda Run (5km), Senior Citizens' Run (2.3km) and Champions with Disability (2.3km).
Chanakya Chaudhary, Vice President, Corporate Services, Tata Steel, "Since its debut in 2014, the Tata Steel Kolkata 25 K run (TSK 25K) has been growing in stature year-on-year and is today the most popular and prestigious distance running event in eastern India. We thank all runners, fitness enthusiasts and the people of this beautiful City of Joy for their continued support and patronage to TSK 25K and urge them to make this event even bigger this year."
Commenting on his association, Face of the Event Sourav Ganguly said: "It's fascinating to see how Tata Steel Kolkata 25K has soon become one of the main sporting events of the metro. The last five years have been truly inspirational and encouraging as thousands of Kolkata's citizens came out to the start line, to put their best foot forward on race day. I can say with conviction that TSK 25K has found its place in the heart of the city."
He further added, "The Ananda Run has been the showcase of Kolkata's spirit and this time with the exciting additions to the event, I am hopeful that Kolkatans will pour in their support. I am very proud to be associated with such a quality sports event and even more proud to see Kolkata waking up to a new healthier lifestyle."
Delivering top-notch running experiences in India is a promise that Procam International lives by. Each year efforts are taken to re-invent and add new elements to the race and ensure TSK 25K is truly – a unique experience.
ANANDA RUN: A kaleidoscope of colour and soul of the event, this category has undergone a transformation. This year, to enhance participants' experience and inspire new runners to take up running, Ananda Run, will be a timed category of 5 km. All participants will be awarded a finishers' medal post-race and a timing certificate, which they can use for official entry into other timed events.
NEW SPONSORS: Running is the fastest growing sporting activity in India and has offered brands a non-conventional yet engaging platform to connect with their consumers. TSK 25K has been fortunate to get support from some of the most prestigious brands. This year the event has strengthened its core with two new sponsors on-board.
Fast & Up, Energy Drink Partner: Continuing with its successful association with the Mumbai, Bangalore and Delhi edition, Fast & Up has extended its association as the Energy Drink partner to Tata Steel Kolkata 25K 2019. The flagship sports nutrition brand of Aeronutrix Sports Products Private Limited is backed by innovative Swiss technology and caters to performance in sport, intelligent nutrition and dietary supplementation for an active lifestyle.
T10 Sports, Sportswear Partner: T10 Sports today, is the leading home grown sports apparel brand associated with various sporting leagues, i.e the Indian Premier League, India Super League, Pro Kabbadi league, Super Boxing league, Pro wrestling league, Table Tennis league among others. With the partnership with TSK25K, T10 has officially forayed into running. In addition to this, T10 Sports has also introduced an exclusive range of merchandise for the TSK25K including a T-shirt for the Ananda run participants at special prices. For more details, please log on to t10sports.com.
As an incentive for runners and to appreciate their efforts, all 25K confirmed participants, will receive the exclusive T10 Sports Race Day Tee, while the overall top 790 men and 190 women finishers in the Open 10K will receive T10 Sports Finishers Tee.
The Tata Steel Kolkata 25K is also proud to have continued support from, Channel Partner- Star Sports, Hydration Partner- Bisleri, Timing Partner- Seiko, Hospitality Partner- The Oberoi Grand, Print Partner- The Telegraph, Khushi Partner- 98.3 Radio Mirchi, Medical Partner- Fortis, Philanthropy Partner – India Cares, Recovery Partner-Volini Maxx, Driven by-ALTROZ, Domains and Online Presence Partner – GoDaddy.
Vivek Singh, Jt. MD, Procam International, said, "With every successful edition Kolkata expresses its undying love, camaraderie and passion for distance running. In only its sixth year, the Tata Steel Kolkata has secured the coveted IAAF Silver Label. This would not have been possible without the encouragement and support of the Govt. of West Bengal, the city authorities, run clubs and the sports loving citizens. Their relentless support to the event, has been the source of our encouragement and inspiration.
To all our partners and sponsors we are indebted, to you for your faith and belief."
PROCAM SLAM: 2019-20 edition of Procam Slam is launched with renewed vigour. Runners will be rewarded with a Running Kit, their special bib number, Procam Slam Medal, a commemorative Procam Slam Frame, Extended Registration Period, Cash prizes and more.
A runner can start his/her Procam Slam by participating in any of the four Procam feature races and running the subsequent three distance running events with effect from 1st April 2019. It is clarified that the runner will not be eligible for more than one Procam Slam cycle, from their 1st event till the 4th consecutive event.
Bengaluru – Mumbai cycle – By 28th February
Delhi – Bengaluru cycle- By 30th June
Kolkata – Delhi cycle – By 30th November
Mumbai – Kolkata cycle- By 31st January
REGISTRATION DETAILS: Registration across five categories 25K Run, Open 10K, Ananda Run (5km distance – timed race), Senior Citizens Run (2.3km) and Champions with Disability (2.3km) will commence on Tuesday 17thSeptember at 07.00 am hrs and stay open until, 19.00 hrs on 29thNovember 2019 or till running places are filled, whichever is earlier.
To encourage women participation, there are a limited number of running places reserved for women applicants in 25K and Open 10K race categories.
REGISTRATION AVENUES
| | |
| --- | --- |
| 1. | For online registrations log onto the event website https://tatasteelkolkata25k.procam.in |
| 2. | Entry fees: 25K – Rs.1100, Open 10K – Rs.700, Ananda Run – Rs.500, Senior Citizen's run and Champions with Disability –Rs. 200 |
| 3. | For Offline, please deposit Application forms along with requisite application fees in drop box located at select Tata Motors Showroom in Kolkata. More information please log on to event website. |
| 4. | Group Entries (20 or above applications): Group registration is possible online by using scratch cards as payment mode. Each member of the group will have to register individually on tatasteelkolkata25k.procam.in using the scratch card. Scratch cards need to be purchased in bulk from the Event's Registration office. Please call the helpline number +919867722855 (10 am to 7 pm, Monday to Saturday) or email at tsk25k@procam.in to purchase scratch cards. |
For more information about the Tata Steel Kolkata 25K, the event website is: https://tatasteelkolkata25k.procam.in
Facebook: http://www.facebook.com/TSKolkata25/
Twitter: http://twitter.com/TSK25K
Instagram: http://www.instagram.com/tskolkata25
Since its inception in 1988, Procam International has been the driving force behind the growth and development of sports management in India. Envisioned by founders Anil and Vivek Singh, Procam, is one of the leading companies in holistic sports management, sports consultancy, and live television programming. With astute planning and exemplary execution, Procam has a track record of conceptualising and promoting over 100 international events, across disciplines -Powerboat Racing, Cricket, Football, Tennis, Distance Running, Squash, WWE, Horse Racing, Volleyball among others. These events have elicited the participation of the highest caliber of athletes, as well as huge public interest and attendance. Publicity : Carpediem Communique. Photography : Biswajit Saha.
Pioneers of the distance running movement in India, Procam International's Big 4 –Tata Mumbai Marathon, Airtel Delhi Half Marathon, Tata Consultancy Services World 10K and Tata Steel Kolkata 25 K are global leaders in their respective distances. These events have ushered in a running revolution that has helped to re-define, the health, fitness and charity paradigm of our country.