Shivaji Ganguly organises 3rd edition of Shivaji Gold Cup for karate at Tollygunje Club
News Correspondent, abptakmaa, Kolkata, 22nd Sept 2019 : Shivaji Ganguly's Academy : Mind & Body is organising " 3rd Shivaji Gold Cup " in honour of Shihan Shivaji Ganguly , 7th Dan Black Belt , Direct disciple and branch chief of Sosai Mas Oyama and President of All India Full Contact Karate Organisation at Tollygunge Club on 24th September , 2019 from 6:30 pm.
This is a National Level Tournament where 8 best Male Fighters and 6 best Female fighters will fight for the Cup. This Tournament is the most prestigious tournament sanctioned by Kyokushinkai India ( The National Body for Kyokushin Karate). The Celebrity Mascots of the event are Mr Nigel Akkara , Mr Badsha Maitra and Ms Devlina Kumar . They have themselves practiced this form of Karate and want to promote it .
The Technical Organising Committee is Led By Mr Shibayan Ganguly, Mr Sauvik Chakraborty, Mr Prabir Mondal , Shyamantak Ganguly ( two times Shivaji Gold Cup Champion ) , Zoe Chakroborty and Pallobi Ganguly.
The Special Guest for this Tournament is Sri Debashis Kumar, Honble  MMIC (Parks & Gardens, Sports,Advertisement, Parking & Hawker's Rehabilitation Schemes,Urban Forestry)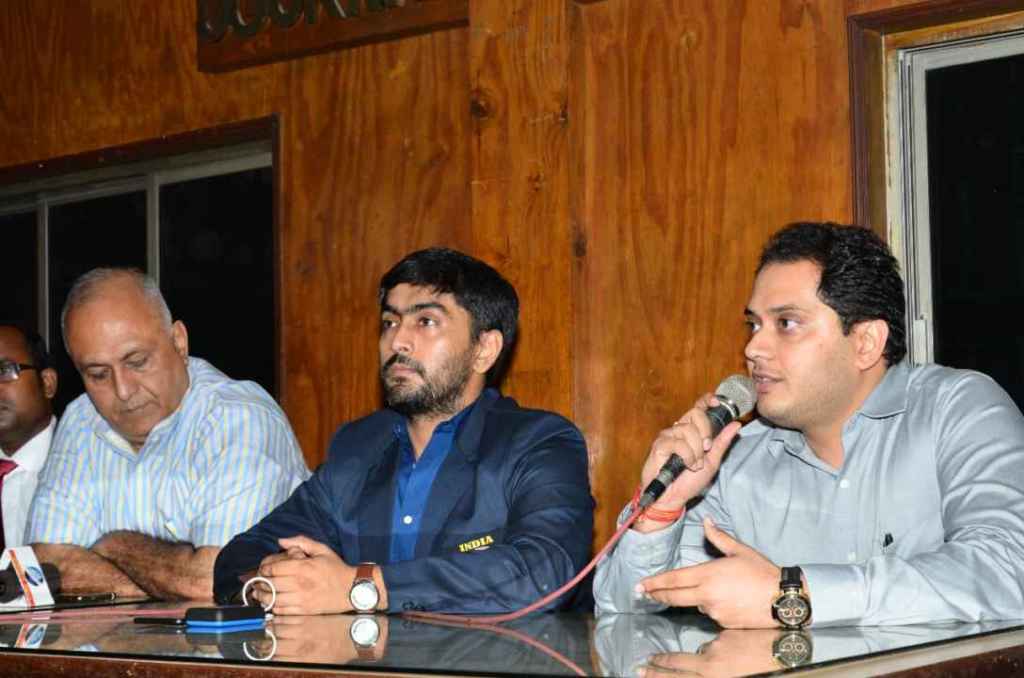 Guest of Honour – Sri Shiboprasad Mukhopadhyay , Smt Nandita Roy , Mr Abhudaya Kedia , Mr Joydip Sirkar , Mr Krishna Damani. Recently a press meet was held at Sports Journalist Club where Shihan Shivaji Ganguly said, Shivaji Ganguly's Academy : Mind & Body is an institute propagating the philosophies of traditional martial arts authentically from 1980. The institute was started by me as a legendary Karate personnel. I have been teaching the authentic version of Full Contact Karate ( Kyokushin Karate ) from then . Now we have other martial arts  like Kalahi system of Filipino Martial Arts , Bangla r Astro Charcha ( Bengali Martial Arts) and Mixed Martial Arts on board . We have been delivering self defense and combat lessons in different schools like South Point School etc, Colleges like Yogamaya devi college, Institutions like IIT ROORKEE etc, companies like Cognizant etc and Kolkata Police . We also have worked with the Government of West Bengal In different projects .  We hold the affiliation of Kyokushinkai India  , All India Full Contact Karate Organization , Japan Karate Association India , MMA India  and Kalahi FMA India . We also have a fitness wing and nutrition counselling wing .
Our three main objective is to promote authentic Full Contact Martial Arts , empower women and society by teaching self defense and promoting physical and mental fitness .
This year we are hosting the prestigious tournament of Full Contact Karate  ( Kyokushin Karate )  " 3rd Shivaji Gold Cup " ( the national level classic full contact karate championship )   . The first one was held at lake Club , Kolkata by us  , the second chapter was hosted by Combatant Sports Academy   at Nerul Gym khana , Navi Mumbai and again this year Kyokushin Kai India has given us the opportunity to host the tournament .