Barrackpore Bashers become Byju's Bengal T20 Challenge champion defeating Kolkata Heroes
Ambar Bhattacharya, Takmaa, Kolkata, 23rd Sept 2021 : The first time in this pandemic situation CAB took initiative for inspiring the young generation of Bengal cricket. Today at Eden Gardens the final match was in between Kolkata Heroes and Barrackpore Bashers. CAB initiated a cutural evening with Dohar Band and Lakshmi Ratan Shukla sung three songs of Kishore Kumar. The final match got delayed due to rain. CAB President Avishek Dalmiya, CAB Secretary Snehasish Ganguly, former Indian cricketer Arun Lal, Ashok Malhotra, Naresh Ojha, Sujan Mukherjee, Baishali Dalmiya former MLA, lawyer Tamal Mukherjee and many others were present on the field.
Skipper Sudip Chatterjee led from the front with another classy innings while youngster Ankur Paul hit his first fifty of the tournament to help Barrackpore Bashers become Byju's Bengal T20 Challenge champion by beating Kolkata Heores by 5 runs in a rain hit final today at Eden Gardens.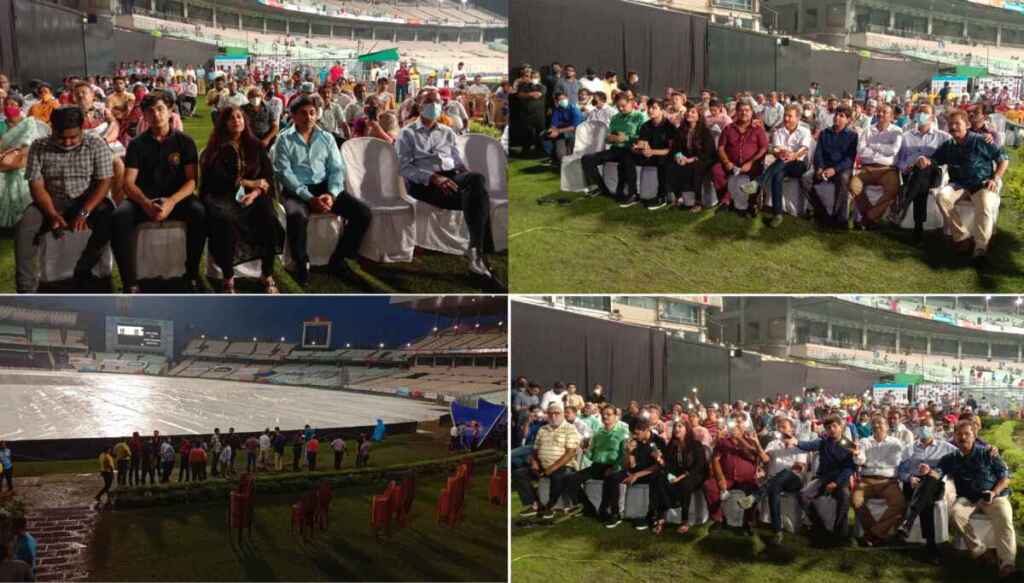 The match was reduced to a 15 overs per side game. In-form Sudip starred with the bat omce again smashing 62 while Ankur made 61 to help Barrackpore post 154/3 while Kolkata were restricted to 149/6 as Karan Lal's gritty 49, Subhankar Bal's fighting 12-ball 28 not out went in vain.
While chasing Aamir Gani (14) went back off Sujit Yadav while trying to give a brisk start to Kolkata, Karan carried on with patience.
Kolkata skipper Ritwik Roy Chowdhury (13) couldn't add much runs while big hitter Sougata Dutta (16) was also removed before making much noise with the bat.
Wicket keeper Subhankar and Geet Puri (19) tried to reach the target with quickfire innings in a high-scoring match.
Sujit bagged 2 wickets while Mukesh, Manik Sirohi and Sourav Mondal picked up 1 wicket apiece.
Needing 30 to win off the last over Suvankar smashed 3 sixes and 1 boundary off Mukesh Kumar on the last 4 balls as Kolkata scored 23 off the last over but it was too late for Ritwik's men to respond.
Earlier electing to bat first Barrackpore openers Sudip and Ankut hit Kolkata bolwers all around the park to stich a staggering 112-run partnership.
Sudip carried his superb form in the final too scoring a whirlwind 35-ball 62 containing 4 sixes and as many boundaries, his fourth consecutive half-century in the tournament. The duo helped Barrackpore reach 100-run mark in just 9.2 overs.
The Barrackpore skipper was later caught by Karan off Gani while trying to hit over deep extra cover.
Youngster Ankur, who has been among runs too giving his team brisk start in the group matches, scored 61 in 42 balls smashing 2 sixes and 5 boundaries.
Koushik Maity for Kolkata bagged two wickets which includes opener Ankur and Kaif Ahamed (11).