Glam up your weekends like Disha Patani from Shoppers Stop
News Correspondent, abptakmaa, Kolkata, 19th Oct 2019 : After a long week of work, Friday nights and the weekends are a great time to unwind, catch up with friends and rejuvenate to face the week ahead.
If you have RSVP'ed to a party this weekend, then you need to check out the Glam Lifestyle collection from Disha Patani's new clothing line, available exclusively at Shoppers Stop!
The collection has looks that cater to various style sensibilities and promises stylish clothing that are comfortable and affordable for all women.
The Glam Lifestyle, as the name suggests, includes tops, dresses and more in sleek, satiny fabrics for a night about town.
These clothes are glamorous while being made from light-weight, breathable fabrics, which makes them ultra comfortable to wear. With these pieces, you can ramp up your party wardrobe a notch, effortlessly.
Designed specifically for a night out, the collection features pieces in colours like black, rose-gold, grey and maroon in shimmery fabric.
Theclassic solid wine coloured mini dress is super versatile, making it a must-have in your closet. It has a flattering silhouette to suit different body types.
You can style it in different ways to perfectly reflect your mood. Have a dinner date and want to dress chic without looking like you are trying too hard?
Dress it down by throwing on a pair of strappy high heels or pumps, a subtle nude lipstick, and tousled hair for an easy, fuss-free yet glamorous look.
Or, dress it up with a bold lip colour to match the dress, chunky earrings or a stack of gold-toned bracelets for a night of dancing.  Give it a sporty twist, you can pair it with sneakers for extra comfort.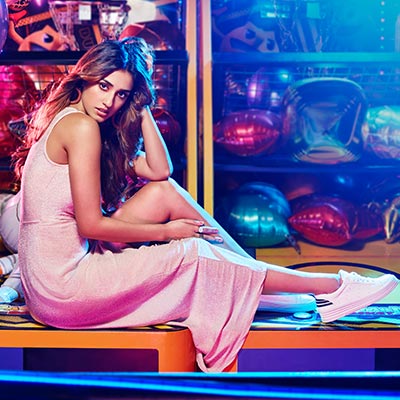 If your definition of glamour is understated elegance, you can pick the medium length dress in a subtle peach shade from the collection. The glittery dress makes it an ideal choice for a cocktail or red carpet event.
Add a touch of sophistication by accessorising it with delicate earrings and a clutch or a chunky ring. Complete this look with a matte lipstick, winged eyeliner, wavy hair and steal the show.
Want to look glamorous but don't want to wear a dress? This collection features tops in flowy fabrics with the perfect sheen for the 'jeans and top' kind of girl.
Combine the rose-gold long-sleeved top or the wine coloured cold shoulder top with a pair of skinny black or blue jeans and metallic shoes to strike the perfect balance between glamorous and casual.
Elevate the look with a metallic eyeliner and nude lipstick and a messy ponytail.
The long-sleeved buttoned-down black top works beautifully for a post-work party with colleagues. The delicate lace detailing on the sleeves gives it a feminine touch when paired with trousers. You can also wear it over a well-fitted pencil skirt to accentuate your curves.
If you love feeling young at heart, then crop tops might just be the right kind of glam for you!
Show off your shoulders in this wine-coloured off-shoulder crop top for that oomph appeal. The lace detailing and ruched body only add to its unique look.
Pair it with high waist jeans and you're ready to scorch any dance floor you walk into! Best for weekend parties, accessorise this look with slinky earrings and a classic cat eyeliner look.
Whether your personal style is defined by feminine silhouettes and pastel hues or your aesthetic is minimalist, or you pride yourself in being the edgy diva, the Glam Lifestyle collection has something that will resonate with women of all personalities.
Don't forget to check it out at Shoppers Stop to revamp your party wardrobe this season. Publicity : Perfect Relation.