"I just knew I had to be one to make a film on the life and death of Gauri Lankesh,": Aparna Sen in a chat on 104.8 ISHQ FM
Desk Correspondent, abptakmaa, Kolkata, 22nd Nov 2019 : Ishq 104.8 FM, India's first romantic radio station, with its shows over the years has earned the reputation of making even the most private of personalities open up about their lives. Making another celebrity feel completely at ease, it was award-winning actor, screenwriter and filmmaker, Aparna Sen to spill the beans on some interesting anecdotes from her life, not known to the masses. In a candid conversation with RJ Akshay, the film industry veteran spoke at length about her latest release, her co-stars, her relationship with Satyajit Ray, among others and lastly, all that makes her the stalwart that we've all grown to love.
Aparna Sen's latest film, Ghare Baire Aaj, is an inspiration that she drew from Tagore's original story Ghare Baire. But she says, the word 'aaj' is what makes the difference between the two and adds to the twist in the tale. The movie is based on the brutal murder of famed journalist and activist, Gauri Lankesh.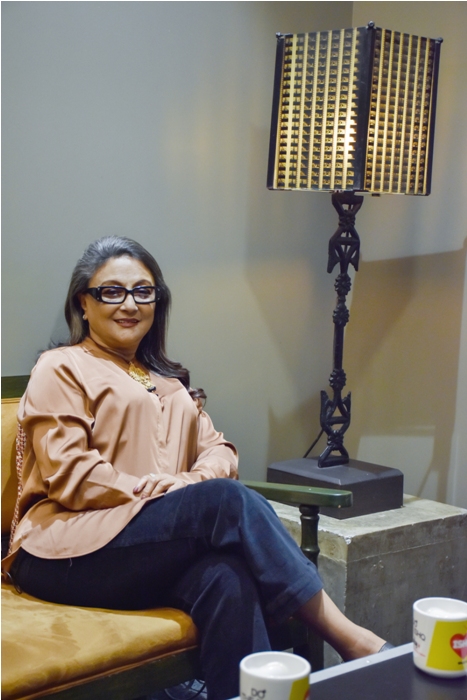 Reacting to that, Aparna Sen says, "I was extremely upset the night I saw the news on the television that Gauri Lankesh was killed. I stayed up all night and thought about it until I dozed off in the early hours of dawn. And when I woke up, I had an epiphany, a dream, where I saw the news, that a famed and brave director for the first time is making a film on her story and I just followed my gut. I knew I had to be that director.' Aparna has roped in Anirban Bhattacharya whose recent film, Gumnami, directed by Srijit Mukherji was a hit at the box office.
Speaking of her long-term co-star, Tollywood's legend, Uttam Kumar, Aparna says, "Uttam babu was one of the most-gentlest, kindest and cooperative co-actor I have ever worked witht. I was a complete snob and used to think lowly of him because he mostly did commercial films. But when I saw him at the set, I was mesmerised and charmed by his acting skills and even went back home to my folks to tell them."
Such was the light-hearted banter on the show that one got to see the foodie and the motherly side to her as well. Speaking about her skill at cooking some lip-smacking khichdi, much to the delight of her friends, Aparna Sen also spoke about the bond that she shares with her daughters Konkana and Kamalini. Publicity : Eastman Communications.