Professor Shonku Goes Gizzmo Friendly
Shoma A. Chatterji, abptakmaa, Kolkata, 19th Dec 2019         Professor Shonku, one of the most challengingly imaginatively created characters by Satyajit Ray will finally come across on the large screen and – hold your breath – also on you cell phone if you wish him to through what is known as Professor Shonku's flipbook.
 Who is Professor Shonku? He is a miracle man within the history of Bengali literature open to a universal readership including children who love reading adventure thrillers and science fiction. All Shonku stories are a delightful blend of adventure and science fiction and one may add some travel adventures too as happens in Professor Shonku O El Dorado which is the name of the Bengali film that will release on 20th December where the professor, his intriguing friend Nokud Chandra Biswas venture into the dangerous heartlands of Brazil and the Amazon.
 Professor Shonku is a scientific inventor of strange machines which can achieve the impossible, thanks to his grounding in Physics which he taught at Kolkata's Scottish Church College as a young man. His real name is Trilokeshwar Shonku. He lives in Giridih. He has a male-servant named Prohlad. In his "The Astronaut's Diary" (Byomjatrir diary) Ray introduced Professor Shonku, as the protagonist of his science-fiction stories. Professor Shonku can speak in 69 tongues which qualifies him to be a polyglot. His pet cat, Newton, is 24 years old! Others giving him company are Jeremy Saunders, a scientist from Britain who lives in London and
Wilhelm Krol, a scientist from Germany who has keen interest in paranormal activities.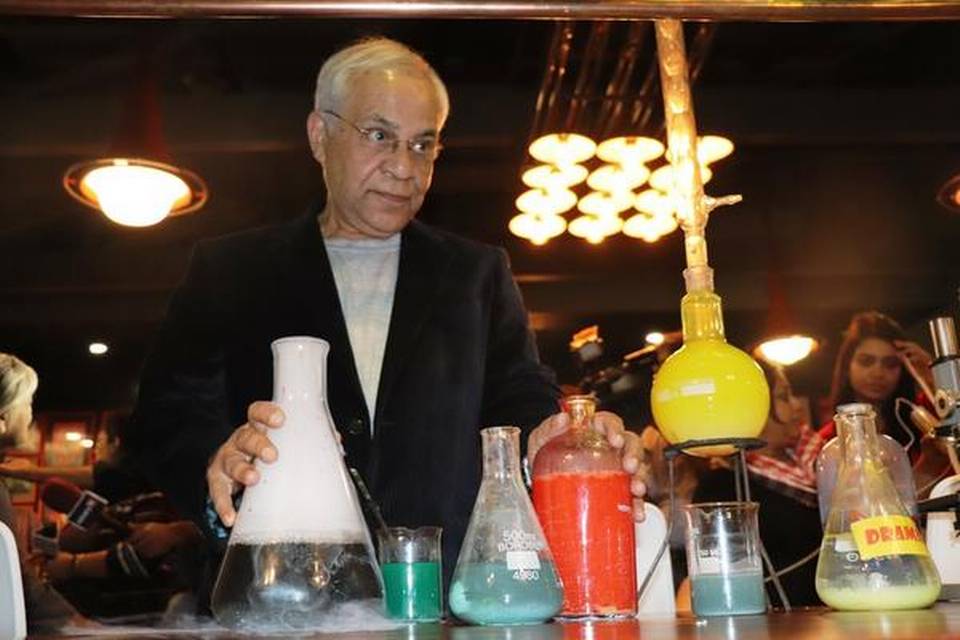 Ray's son Sandip Ray is all excited about the theatrical release of his first film on Professor Shonku which he had stalled for many years for want of proper funding. "A science fiction film demands a lot of funding which I could not expect by producers to bear as I was not certain of whether the film would be a commercial success or not. But now, when there has been a tremendous evolution and revolution in technology, I felt this was the right time to inject celluloid life into a great literary creation like Professor Shonku."
The story goes that Satyajit Ray was a big science fiction fan, and one of his favourite fictional characters was Sir Arthur Conan Doyle's Professor Challenger. In fact, originally, the idea of Shonku was born out of Challenger.
The film version uses two different kinds of reality. One is known as Augmented Reality or AR and the other is called Virtual Reality or VR. The firms AndReal and Anderson have been chiefly responsible for bringing in the next generation technology through this film. M.K. Karanjia, who heads AndReal, says, "the film opens a fantastic door to introduce ARVR into cinema which will be a great way to reach the youngsters."
Augmented Reality is an interactive experience of a real-world environment where the objects that reside in the real world are enhanced by computer-generated perceptual information, sometimes across multiple sensory modalities. It is an extension of the real world – a bit ahead of 3-D – and it feels that we are seeing things happening in real time. But virtual reality takes you directly into the scene that is happening and you can be a part of the scene. For example, it will help you to step into Professor Shonku's laboratory and actually talk to him!
Shree Venkatesh Films has made it possible to use Professor Shonku Strips which can allow children to photograph themselves with Professor Shonku or with Nokud Babu and take a Selfie and post these clicks on their social media page right away! It is like being a part of the scene without the suspense being revealed!
Dhritiman Chatterjee portrays the title role of Professor Shonku while Subhashish Mukherjee is Nokud Babu who can foresee the future -he is a clairvoyant – and also read into people's minds. Uday Shankar plays Prohlad the servant of Shonku while Ratan Sarkhel, a much under-utlised but brilliant character actor plays a cameo along with Shubrojit Mitra. Sandip Ray has composed the music himself while Soumik Halder is DOP.
Professor Shanku is an imaginary scientist in Bengali Literature. There is a series of stories and novels of Professor Shonku that has been a part of Bengali culture for years. The name Shonku is class-less, as viewed by the rules of Bengali Hindu society. So, he is a very significant character to be realised in and through cinema in these turbulent times when religion is playing havoc in our lives.
In Shonku, Ray bestowed much of his own humanistic ideals and ideas. "Shonku is Satyajit Ray; there is no doubt about that. As in the case of Feluda, who is also in many ways Satyajit Ray, my father gave Shonku many of his own characteristics and left out traits that he did not like. Shonku's honesty, personal and academic integrity, his essential Bengaliness and his erudition are all traits of my father," said Sandip Ray.