iLEAD Organizes A Star Studded Musical Event With Zarina Wahab, Chiranjeet Chakraborty, Chaiti Ghoshal To Promote Heritage Tourism In Murshidabad
Debopriyo Bose, Takmaa News, Kolkata, 18th Nov 2023 : iLEAD, Institute of Leadership, Entrepreneurship And Development, took a remarkable initiative in promoting heritage tourism through the lens of captivating music videos. Mr. Pradip Chopra, Chairman at iLEAD and PS Group, orchestrated a star-studded musical endeavor that unfolded the legacy and heritage of Murshidabad in an unprecedented trilogy of music videos.
The musical event, held at iLEAD, showcased iconic locations such as Bari Kothi, Kathgola Palace, and Nashipur Rajbari. All three songs featured in the videos were sung by the multitalented Mr. Chopra himself, creating a harmonious fusion of heritage and melody.
Distinguished guests graced the occasion, including Prof. Tapas Chakraborty, Hon'ble Vice Chancellor of MAKAUT, Veteran Bollywood actress Ms. Zarina Wahab, Mr. Atul Singh (CSR Head, Emami), Ms. Chaiti Ghoshal (Actress), and Mr. Chiranjeet Chakraborty (MLA and Bengali actor) and Mr. Soumen Mitra (Director General of Police) among others.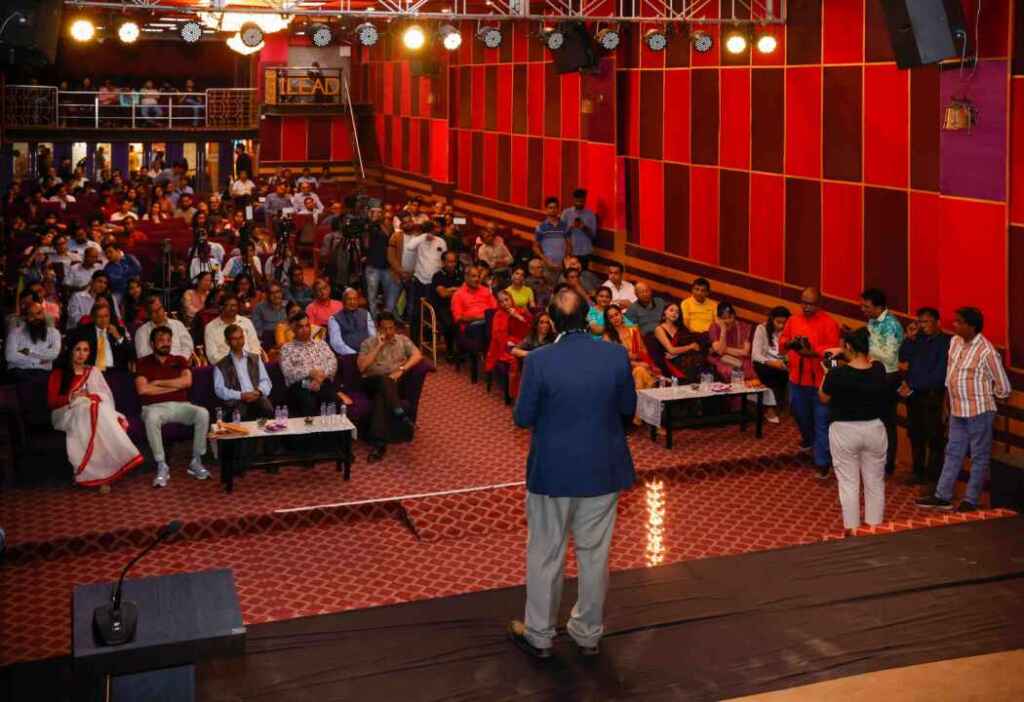 Mr. Chopra, in addition to sharing his invaluable thoughts on global issues and sustainability, passionately advocated for the preservation and promotion of the heritage of Murshidabad. The music videos seamlessly weaved through the cultural tapestry of Murshidabad, offering a unique and immersive experience to the audience.
The first video, a soulful cover of "Hoshwalon Ko Khabar Kya", artfully portrayed the legacy of Bari Kothi. "Mera Dil Yeh PukareAaja" then transported the audience to the majestic Kathgola Palace of Murshidabad, while the final video featured "Mujhe Kitna Pyar Hain Tumse", bringing forth the essence of Nashipur Rajbari.
Ms. Chaiti Ghoshal expressed her admiration by sharing lines written by Mr. Rabindranath Tagore, underscoring Mr. Chopra's dedication to showcasing the heritage of Murshidabad.
Veteran actress Ms. Zarina Wahab also shared her experiences working with Mr. Pradip Chopra, and Mr. Chiranjeet Chakraborty praised Mr. Chopra's efforts in highlighting the potential of heritage tourism in Murshidabad through music.
iLEAD, as a college, that offers the degree program of BBA in Travel and Tourism, took the initiative to boost heritage tourism at Murshidabad. The event transcended beyond a mere musical showcase; it was a perfect blend of art, culture, and heritage, creating a lasting impact through memorable audio and visual compositions.
Link – https://www.youtube.com/watch?v=b4U3dNAvddc