Football and Man Utd legend Louis Saha launches fourth edition of United We Play programme at Kolkata
Ambar Bhattacharya, Takmaa News, Kolkata, 21st Nov 2023 : The fourth season of the initiative by Apollo Tyres, supported by Manchester United, to be back in a much bigger format and create greater impact.
Leading tyre maker Apollo Tyres today announced the launch of the fourth edition of United We Play (UWP) programme, in the presence of former Manchester United and French footballer Louis Saha here in Kolkata today.
The United We Play programme is an on-ground grassroots football initiative, supported by Manchester United to encourage young football talent from across the country by giving them a platform to showcase their skills with the objective of motivating aspiring footballers to continue playing and introducing them to global training methodologies.
The fourth edition promises to be much bigger and better with a year-round (12-month) programme, reaching out to 24+ cities pan-India and over 15,000 young footballers across the country. Over 100 coaches will also be engaged through virtual Manchester United Soccer Schools training sessions, ensuring that the teachings and training methods reach to every footballer involved in the programme. In addition, the initiative will also be expanded more cities in the Asia Pacific, Middle East and Africa (APMEA) region.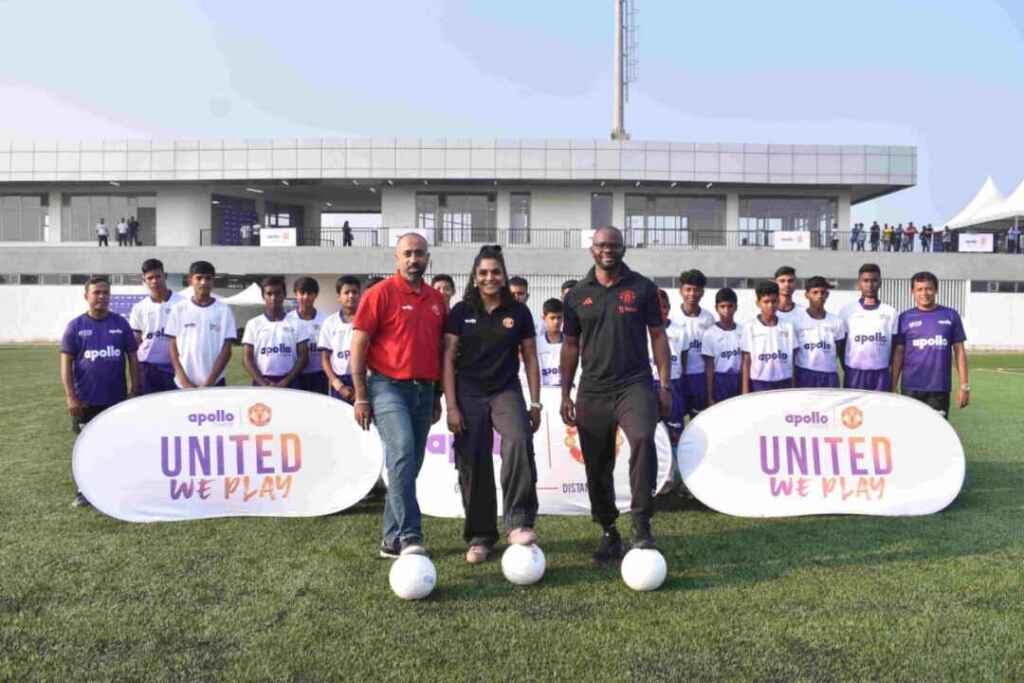 Louis Saha, while officially launching and kickstarting the activities for the fourth season of United We Play programme, said, "I am honoured to have been invited by Apollo Tyres to help launch the fourth season of United We Play. This is a huge opportunity for any up-and-coming footballer, and I would like to thank Apollo Tyres for creating this fantastic opportunity to inspire and develop the next generation of youth footballers. Participants will not only learn to play the Manchester United way, but also pick up valuable life skills, such as teamwork, discipline and determination, which will go on to help them in the future."
Commenting on the launch of the fourth edition of UWP, Remus DCruz, Head Marketing, Sports and Communities, Apollo Tyres Ltd, said "Over the past three editions, our core vision for United We Play was to increase the footprint of football in India and giving opportunity to deserving young footballers at a global level. We are thrilled that the fourth edition is back with massive enhancements in terms of footprint as well as duration of the programme. We would also like to thank Manchester United for their wholehearted support and being true partners for the United We Play initiative."
The initial phase of the fourth edition of United We Play will be run by domestic coaches, before young footballers get a chance to impress coaches from the Manchester United Soccer School (MUSS). The best performers from across locations, will participate in the grand finale of the competition, and winners will get a trip to Manchester, with several experiential activities at Old Trafford, the home of Manchester United.
The first three seasons were a massive success and received an overwhelming response with over 16,000 players from the country participating in the programme comprising on-ground trials, masterclasses and workshops. The last season saw 7 young footballers, which included 4 from India – Freddy Jyrwa from Meghalaya, Manipur's Thangminlun Touthang, Aaryav Da Costa from Goa and Mumbai's Niall Goghavala – along with Rohit Shestra, Liam Cintando and Nihal Girish from Nepal, Thailand and UAE respectively. The 7 youngsters got a lifetime opportunity to visit Old Trafford to participate in exciting activities like a match-day experience, training session with Manchester United Soccer School coaches, and a chance to interact with the Club's.