Kartik Aryan Reveals He Got Forgot What Women Want After Pyaar Ka Punchnama on 104.8 Ishq
Desk Correspondent, abptakmaa, Kolkata, 21st Dec 2019 : Taking the radio waves and the internet by rage with her return as an RJ, Kareena Kapoor Khan's webisode of 104.8 Ishq's What Women Want 2 in conversation with Sharmila Tagore crossed millions of views. After watching the fun saas-bahu duo in the first episode, Bebo welcomed the nation's newest heartthrob – Kartik Aryan for a rib-tickling tete-a-tete. And who better than the Pyaar ka Punchnama-famed actor to give us an exciting sneak-peak into the burning questions about new age dating!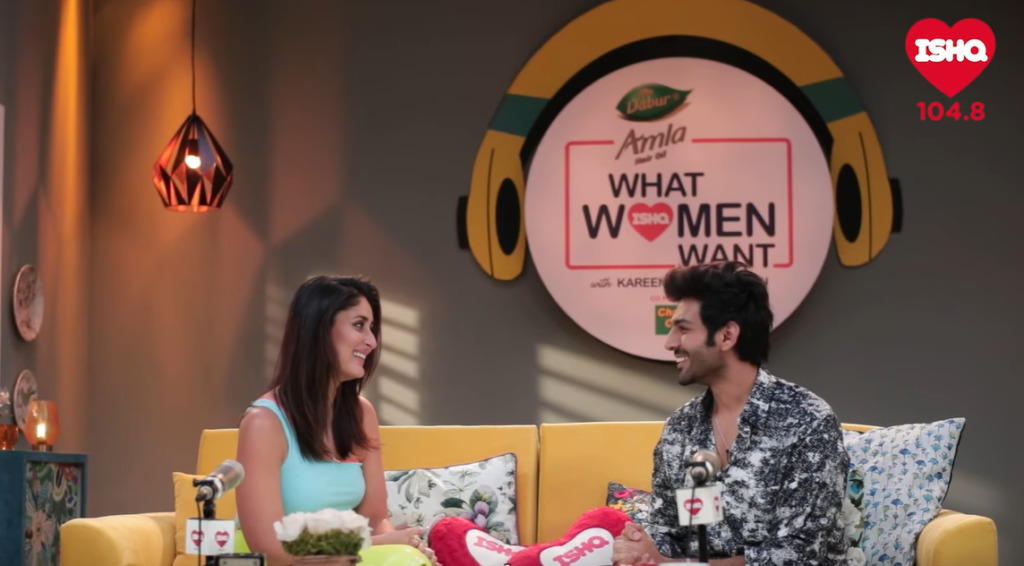 In hopes that the dashing actor would reveal some exciting hush-hush stories after being a part of the blockbuster Pyaar ka Punchnama films, Kareena and Kartik talk about his takeaways and the epic monologue. In the webisode, Kartik reveals, "Pyaar Ka Punchnama was actually the opposite of this. We were trying to understand what do women actually want. Infact, I knew more about what they wanted before I did the film than after! The kind of characters and roles we were playing, actually made us forget. Even after 2 super hit monologues in both films, I am still searching for the answer for this."
Adding further on Pyaar ka Punchnama and the criticism that it received, Kartik went on to say, "There was no hatred or criticism that came to me directly. Infact, I received quite a lot of love and appreciation for the films. Even from girls, they took it with a pinch of salt."
Bantering about how his fan-following has hit the roof, especially among young girls and much more, Kartik Aryan's sit down with Kareena was as adorable as it could get.
Stay tuned to season 2 of What Women Want with Kareena Kapoor Khan on Ishq's YouTube channel every Thursdays and on-air from Monday to Friday at 8 pm and 10 am. Publicity : Eastman Communications.