Pet Pujo mouth watering offerings during puja at Holiday Inn from 4th to 8th Oct
Ambar Bhattacharya, abptakmaa, Kolkata, 5th Oct 2019 : This year feast at Holiday Inn Kolkata Airport with wide array of traditional and modern Bengali cuisines including lost grandma recipes, Popular street food of kolkata, delicacies of Epar Opar Bangla and many more…
Buffet highlights: Bhaja masala tetuler sharbot, Bok fuler bora, Grandma's achar, murabba and kasundi station, Mangser chui jhal, Sheel e bata chingri, Kankrar jhal, Sinni mousse, Malpoa kanchagolla roll. For Kids a special section of Candy Floss, Ice Golas, and Ice Cream cart will be on display. The Pet Pujo Offerings will be effective from 4th-Oct-8Th Oct 2019 at Social Kitchen along with the dishes given here. The welcome drink will be served with any one of the drinks such as AAM PUDINAR SHARBAT/GANDHORAJ LEBUR SHARBAT/ MOURI BATASAR SHARBAT, LEBU PATA DIYE DOIER GHOL/ANARAS JALJEERA/ CHHATU JEERAR GHOL/ BHAJA MASALA TETULER SHARBAT.
Then comes the Main Course Lunch dishes like BHAJA-BHUJI : ALOOR CHOP/DAL NARKELER BORA/BEGUNI/BOK FULER BORA/PEYAJ POSTOR BORA, GANDHORAJ MANGSHER CHOP/MURGI PEYAJER FULURI/DIMER DEVIL/MACHHER CUTLET/MACHHER DIMER BORA/ KUCHO CHINGRIR BORA
COLD SECTION : FRESH GARDEN GREENS, GANDHORAJ LEMON, GREEN CHILLY, PEYARA-KASUNDI/ KAMRANGA-KASUNDI, MOONG DAL R NARKOLER SALAD,
BATA – BHARTA: KALOJEERE KUMRO BHARTA, BEGUN BHARTA, TOMATO RASOON BHARTA, RANGA ALOO BHATE, SHEEL E BATA CHINGRI/ LOTE MACHHER BHARTA/ MURGI KORAISHUTIR BHARTA/ DIM POSTOR BHARTA
ACHAR, MURABBA AND BORI STATION: MASOOR DALER BORI, BEULI DALER BORI, POSTO BORI, GOYNA BORI, MASALA BORI, BELER MURABBA, CHAL KUMROR MURABBA, AMLOKIR MURABBA, KAMRANGAR MURABBA, THAKUMAR AAM KASUNDI, KULER ACHAR, KANCHA AAMER MISHTI ACHAR, AAM TEL, TETULER ACHAR, LEBUR ACHAR, RASOON-KANCHALONKAR ACHAR
MAINS (VEGETAREAN) : CHAAL PATOL/CHAL PHOOLKOPI, BHAPA CHHANA/CHHANAR KALIYA, KORAISHUTIR DHOKAR DALNA/DHOKAR ROSA, POLTA PATAR SHUKTO/SHUKTONI, POSTO LAAL SAAG BORI BHAJA/KOLMI POSTO BHAJA, DOODH LAU/KUMROR CHHAKKA, NARKELI CHHOLAR DAL/MOONG MOHAN DAL/MACHHER MATHA DIYE SONA MOONG DAL, BORI DIYE THOR CHECHKI (FORGOTTEN RECIPE)/ BORA, CHHOLA DIYE MOCHAR GHANTO, TANGRA STYLE CHOWMEIN, VEGETABLE MANCHURIAN DUMPLING
MAHASHTAMI SPECIAL KHICHURI STATION: BHUNA KHICHURI, SABJI KHICHURI, LABRA, FIVE TYPES OF BHAJAS, PAROMANNO,
MAINS (NON-VEG) : BORISHALI CHINGRI/BATI CHINGRI, BHETKI PHOOLKOPIR KALIYA/ TEL AAR, DOI KATLA/KANKRAR JHAL, KEEMA METER CHARCHARI/MANGSER CHUI JHAL/KOLKATA MUTTON BIRIYANI, GOALANDA CHICKEN CURRY/ BIKROMPURER MORAG KORMA/ DHAKAI MORAG PULAO, KORAISHUTIR KACHURI/RADHABALLABHI, GOBINDO BHOG GHEE BHAT/ TULAIPANJI GHEE BHAAT, TOMATO AAMSATTO KHEJURER CHATNEY, AANARASER CHUTNEY, PANCHMISHALI PAPAD BHAJA /SABOO PAPAD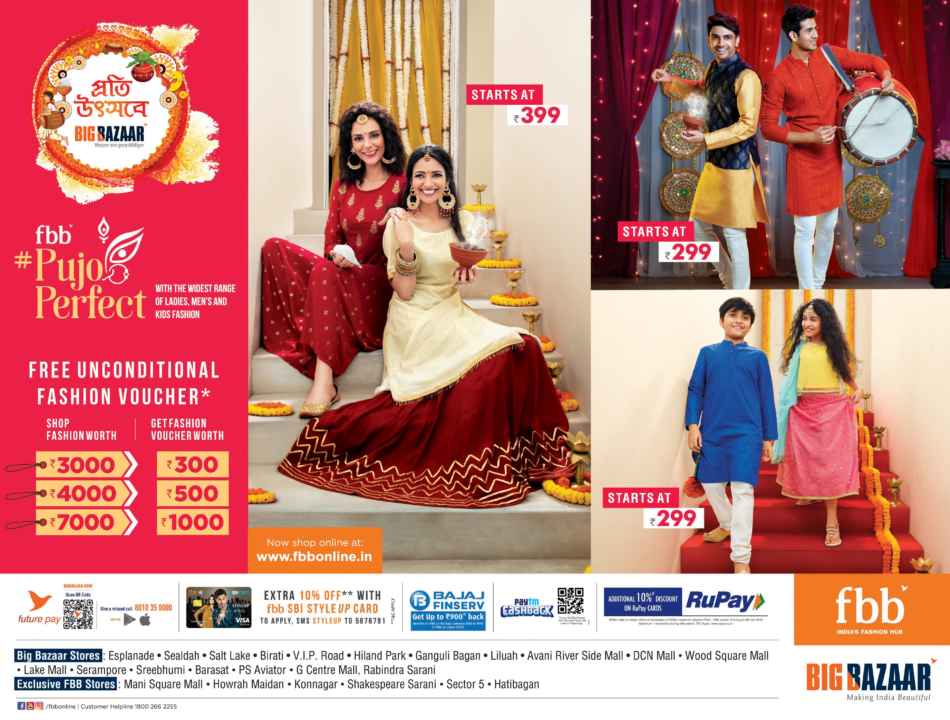 DESSERTS : MALPOA, KANCHAGOLLA ROLL, INDRANI, LADY KENNY, CHEESE CAKE, ABAR KHABO, LAAL DOI, BAKED RASOGOLLA, CHHANAR JILIPI, SINNI MOUSSE
Buffet Meal for one: 1000 + tax
The Lunch will be followed by theme based décor with live entertainment to enlighten the festive mood of the guests!Dandiya at Durbaar. Traditional and Disco Dandiya at our new banquet hall Durbaar on 5th, 6th, and 7th of October 2019.
Exclusive Festive Hampers from Holiday Inn Kolkata Airport
Holiday Inn Kolkata Airport have introduced a variety of Goodies and Hampers to add extra flavour of joy to our guest and corporates with our festive hampers. Photography : Biswajit Saha.