Curtain raiser of Literature Festival at the 44th International Kolkata Book Fair and official Mascot of the Book Fair, "Tyto" the Owl
News Correspondent, abptakmaa, Kolkata, 28th Jan 2020 : The Fair will be inaugurated by our Hon'ble Chief Minister Smt. Mamata Banerjee, in presence of Hon'ble Mr Vladimir Grigoriev, H.E. Mr Kudashev Nikolay Rishatovich, Ambassador of Russia in India, Mr Aleksei Idamkin, Hon'ble Consul General of Russia in Kolkata, Mr Eugene Vodolazkin, Mr Vadim Polonsky and Eugene Reznichenko from the Theme Country Russia , eminent essayist Shri Nrisingha Prasad Bhaduri and  Hon'ble Ministers of West Bengal.
On the occasion of Russia being the Theme Country, four books have been translated from Russian to Bengali and will be published at the Book Fair. The name of the translated books are Bigyapone Mele na, Frosia Karovina, Ek theke dosh Prem & Rangberong er Tushar.
Let us now apprise you about the different events to be held during the Fair: Ashok Sarkar Memorial Lecture will be delivered by Vadim Polonsky on 30 January 2020. The same day will be celebrated as the Focal Theme Russian Day.
On 2 February 2020, Children's Day will be celebrated in the fairground.
Bangladesh Day will be celebrated on 9 February 2020.
The prize distribution ceremony will be held on 9 February 2020.
Giving prime importance to security, safety and environment, this year's fair will also have adequate CCTVs, man counting machines, adequate fire tenders and fire fighting arrangements. Hon'ble Minister of the Department has already taken care of security arrangements.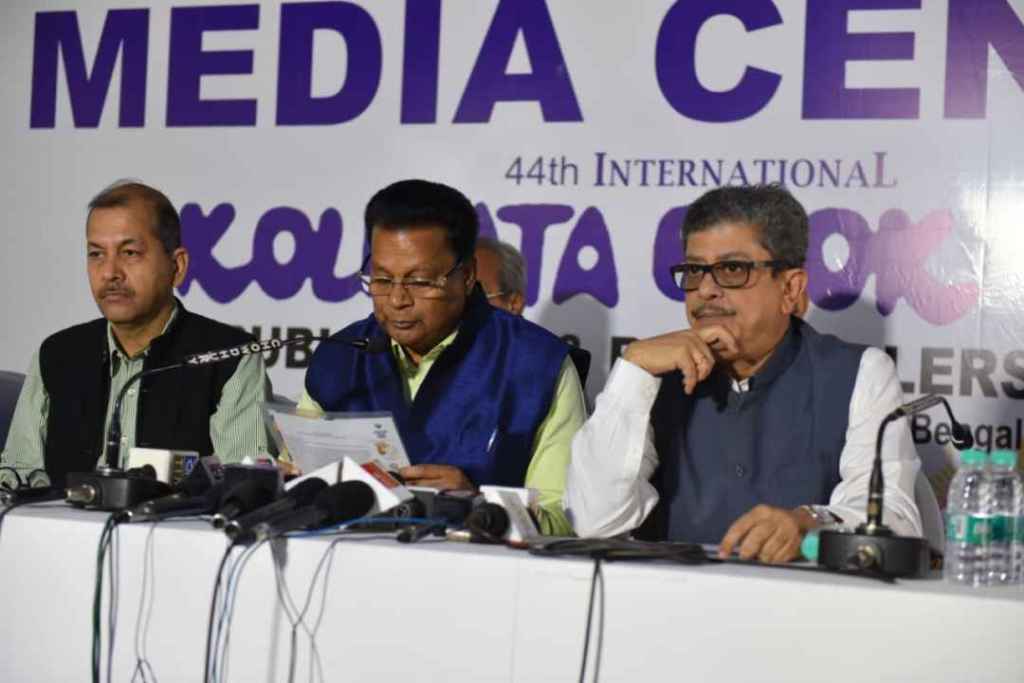 Gate No 5, the Theme Gate will be the replica of Bolshoi Theatre of Russia & Gate no 4 will be the replica of Sanskrit College. Gate no 1, Sampriti Gate – will be the symbol of unity, harmony and integrity. Gate No 3 will be the replica of the India Gate. Gate no 6 will be the Biswa Bangla Gate & Gate no 9 will be the replica of Gate of Jorasanko Thakurbari.
The roads & lanes of the Book Fair has been named after departed authors of Bengal and Russia.
Eminent persons from Europe and Latin American countries will be visiting the upcoming Book Fair.
In this context, we are pleased to announce that the inaugurator of last Book Fair 2019. Ms Euda Morales will be visiting the Book Fair this year also along with other eminent personalities from Latin America like Prof. Emili Puig Vilaró of Spain, Ms. Gladys Mercedes Acevedo, Ms. Marcelina De Haro, Ms. María de los Ángeles Espinosa, Ms. Esther Simon from Argentina and many others.
We have with us Ms Sujata Sen, Director, Kolkata Literature Festival, who will apprise you about the 7th Kolkata Literature Festival 2020 to be held from 6 to 8 February 2020.
This year, for the first time, we will have an official Mascot of the Book Fair, Tyto. It is a category of bird species consisting of barn owls, grass owls and masked owls. Tyto is also a good pet name. We will officially release the mascot today. Publicity : Candid Communication.