Aditya School of Sports Elevates Football Coaching with Distinguished Collaboration and Workshop
News Reporter, Takmaa News, Kolkata, 30th Sept 2023 : Aditya School of Sports announced collaboration with Paul Neary, a former International Coach Educator of Manchester United, the Japan Football Association, and the Saudi Arabia National Team, as well as the Director of Champion desde Casa Sports Private Limited at Spring Club, EM Bypass on Saturday. To mark this momentous occasion, Aditya School of Sports is hosting a Football Workshop on Sunday, October 1, 2023, at their campus. The event was also graced by the presence of Mr. Anirban Aditya, Chairman, Aditya Group.
The partnership holds the promise of elevating the football coaching landscape to a higher echelon, offering an exceptional learning opportunity for enthusiasts. The announcement, made during the event, was infused with great enthusiasm, setting the stage for a new era in football coaching in Kolkata.
This collaboration aims to nurture a culture of excellence in football coaching and player development within India. The forthcoming workshop is poised to be an enlightening and enriching experience for football enthusiasts, providing a unique opportunity to glean knowledge directly from Paul Neary himself. Additionally, during the event, two significant announcements were unveiled. The first pertains to the partnership between Champion Desde Casa and WUK, solidifying their collaboration as Analytics Partners. The second announcement heralded the official launch of the Futsal Academy at Aditya School of Sports Turf, situated at the Dum Dum Campus.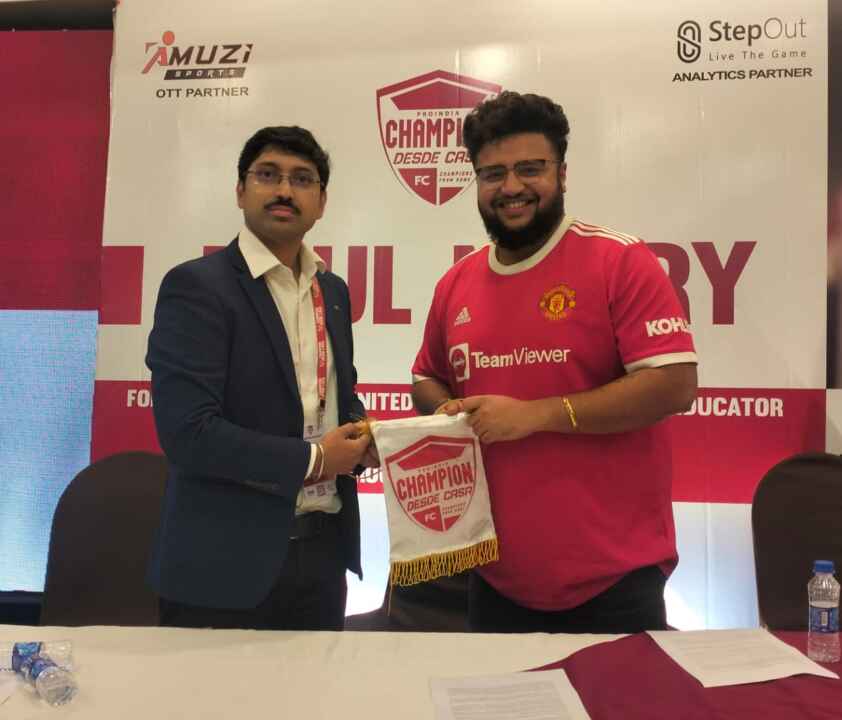 Commenting on the event Mr. Anirban Aditya, Chairman, Aditya Group said "Bengal's enduring connection to football remains steadfast, owing to the inherent requirement of profound passion for excelling in this sport. It is incumbent upon us to channel our efforts towards nurturing the burgeoning talent within our youth and effecting transformative change in Indian football. I am particularly exhilarated about our collaboration with Mr. Paul Neary, a distinguished individual who brings with him a wealth of experience garnered from one of the world's preeminent football clubs."