Best Friendz Society (BFS) has celebrated Holi with under privilege children at the Refuge
News Correspondent, abptakmaa, Kolkata, 10th Mar 2020 : Best Friendz Society has celebrated the colourful occasion of Holi today with the underprivileged children of 'The Refuge' in 125A, Bipin Behari Ganguly Street. Best Friendz Society has distributed different colorful abir's to 350 inmates of Refuge.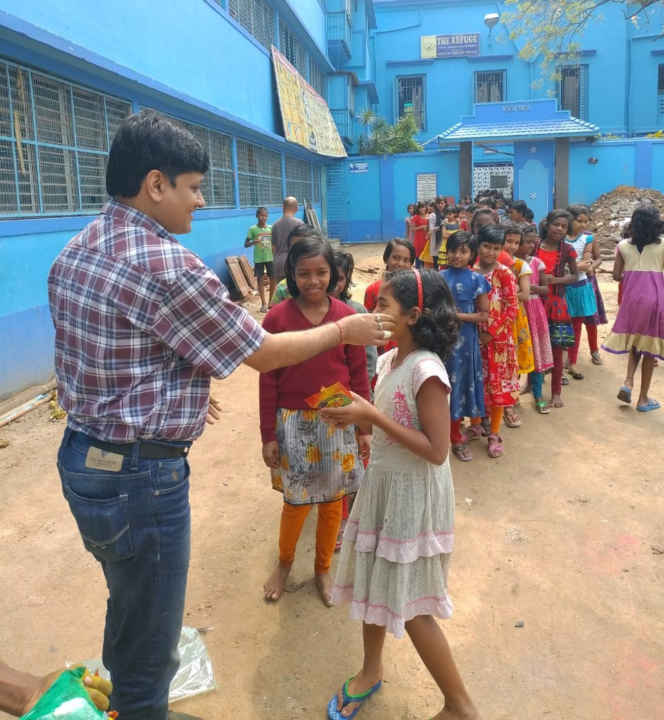 Best Friendz Society is a non government charitable organization working in the field of education, healthcare for upliftment of the under privileged children of urban and rural area. It is because 'Every child has a dream' that the organization exists and works towards making that possible. Best Friendz Society has been working in West Bengal in places like Kolkata, Howrah, Nalpur, Uluberia, Budge Budge, Sonarpur, etc. in the fields of Education, Health & Employment. Recently on 5th March Best Friendz Society organized IWAA Awards (Inspiring Women Achiever's Award) to celebrate the spirit of womanhood.
Mr. Rajiv Lodha, President, Best Friendz Society said "We are so happy and glad to see the glimpse of hundred smiles on the faces of children by celebrating Holi with them." The aim of the Best Friendz Society is to work for the proper upbringing of under privileged children and secure their future.
He adds further, "every year we organize the Holi Celebration in 'The Refuge'. We are very happy to be the reason for smile on the faces of the children".
BFS is a A registered NGO in Kolkata, India Incorporated under West Bengal Act XXVI of 1961 S/IL/52120 of 2008-2009 Reg no : 52150 of 2008-2009.Working together with Partners and Local Communities. BFS supports children towards a better life with better awareness, better life skills, and better opportunities, in the journey from childhood to livelihood. Their aim has been helping local disadvantaged children regardless of their religion, class, caste or gender. Free health Campaigns are also organized to promote a healthy livelihood. Their philosophy is to network with other charitable organizations and with Educational Intellectuals of every sect and culture who seek to contribute to society.