Q Waits "Sharodiya Digital Impact Awards 2020" winners announced
Ambar Bhattacharya, abptakmaa, Kolkata, 19th Oct 2020 : The 4th Edition of Sharodiya Digital Impact Awards 2020 has announced the names of the winning Puja committees in three different categories. This was judged by renowned Musician& Singer, Surojit Chatterjee, famous singer & anchor Paroma Banerjee, Tollywood Actor – Vikram Chatterjee, DJ Akash Rohira, President of Q-Waits (Canada) Mr. Dipanjan Biswas, Fashion Designer of Myosutra (London) – Roshni Mukherjee and Mr. Pinaki Ganguly of Dialogue-in.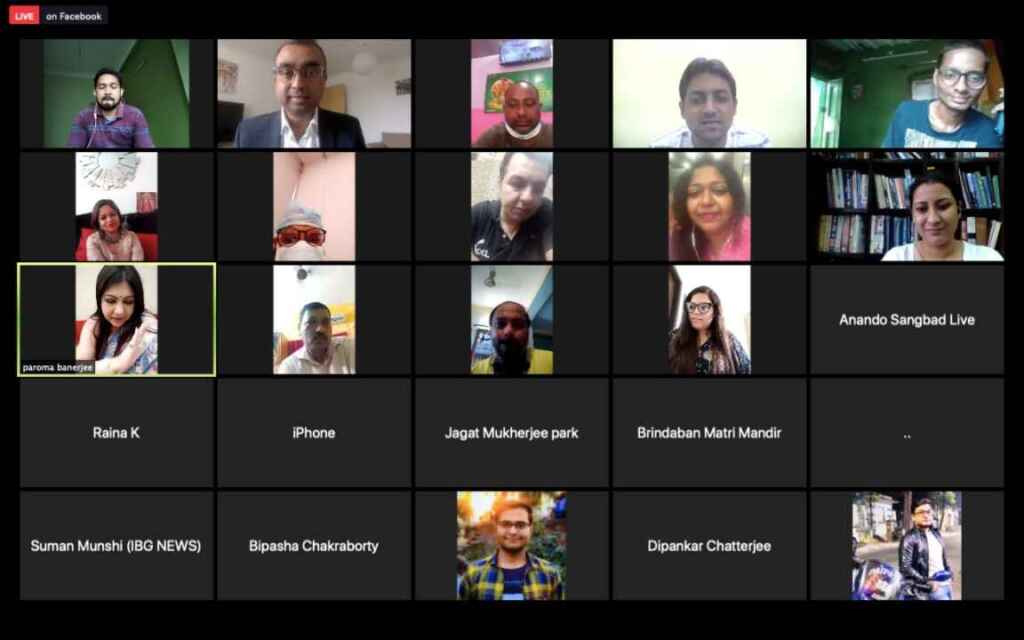 Sharodiya Digital Impact Awards 2020 is an initiative of honouring the best Durga Puja Committees on Social Media platforms that covered all the creative aspects of digital promotion starting from the concept, creativity, implementation and the number of page likes to the Best Integrated (cross-platform) Social Media Campaign. This contest witnessed 200 entries from all over the West Bengal. Amid the pandemic, most of the Puja Committees has shifted towards the Digital Media by successfully using new-age technology and information to connect with people while adhering to the norms of social distancing
The judging category was divided into 3 parts: Best Digital Impact Awards, Jury's Choice Awards, People's Choice Award and Best Sharodiya Social Awareness Award . The trophies would be handed over to the winning Durga Puja Committees on 20th October 2020 by our Jury members.
Mr. Dipanjan Biswas, President, Q-Waits, said, "We feel overwhelmed to be a part of the Sharodiya Digital Impact Awards 2020. The hunt for the Durga Puja with the best Social Media campaign finally comes to an end. We have received huge responses from all over the West Bengal. Since this is the year of pandemic, sanitization and safety precautions are of major concern, we have decided to give one special award to the particular pandal too, that has taken all the safety precautions. I would like to extend my heartiest congratulations to the winners in all categories."
Candid Communication has organised this gala contest. The 4th Edition of Sharodiya Digital Impact Awards 2020 is happy to have Q-Waits on board as its Title Sponsor, Banchharam'S as its Sweet Partner, 91.9 Friends FM as Radio Partner, Urbana as the Venue Partner, Dialogue-in as the Social Media Partner, Khabar 365 Din as Bengali Print Media Partner, Outdoor Media Partner – Peedee, Myosutra as its International Goodwill Partner, Trophy Partner Refeel and Cable Partner – Siti Cable. Putting an exciting end to the initiative the following Puja Organizations were announced as the winners (Categorically):
Best Digital Impact Awards:
• Winner – Ballygunge Cultural Association
• First Runner-up – Mudiali Club
• Second Runner-up – Dumdum Tarun Dal
Jury Choice Awards:
• Winner – Samaj Sebi Sangha
• First Runner-up – Urbana Welfare Association
• Second Runner-up – Kashi Bose Lane Durga Puja Samity
Peoples' Choice Award:
• Winner – Goabagan Sarodotsav Sammilani
• First Runner-up – Dum Dum Park Yuvak Brinda
• Second Runner-up – Ward no 1 Sadharan Durgotsav – O- Pradarshani
Best Sharodiya Social Awareness Award
· Gariahat Hindustan Club