Best 10 bengali movies of 2019 by the new generation directors
Shoma A. Chatterji, abptakmaa, Kolkata, 12th Jan 2020 : Fortunately, 2019 has been lucky for Bengali cinema because beside the fact that the quantity of films released was quite high, the quality too, considering the parameters of different subjects and message-oriented films, was significant. Not necessarily going into other "top ten" lists here is my own short listing of the top ten that does not include the box office thunders though, there might be some films where the box office and the quality go hand in hand.
Top of my list position goes to Kedara, the directorial debut of Indraadip Dasgupta who is a renowned music director in Bengali cinema. But he decided to hand over the charge of the musical score to someone else – Arijit Singh. There are no songs in this film where silence dominates punctuated by sound effects with a touching background score by Arijit Singh and the sound design orchestrated fittingly by Anirban Sengupta. Kedara 'arm chair' is a tribute to the fading craft of ventriloquism and the artists who performed the art. But the tribute is so understated and woven into the narrative so seamlessly that you almost fail to notice it. It is an integral part of the lifestyle of Narsingha (Kaushik Ganguly), who once was a ventriloquist but has been sidetracked by all the New Wave entertainment that has flooded our lives.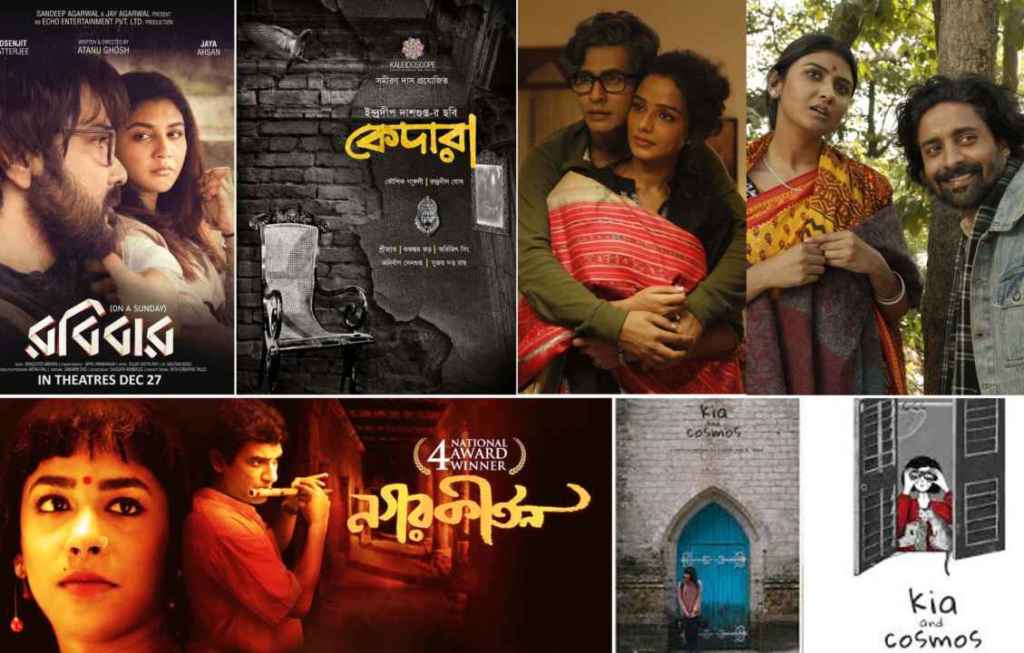 In Writer-Director Sudipto Roy's Kia and Cosmos, 15-year-old Kia (Ritwika Pal) is worried and sad because Cosmos, a pregnant cat she was very fond of, has been poisoned to death. Kia and Cosmos is a 'coming-of-age' story in which Kia grows not only in terms of physical maturity but also in terms of social maturity with the script charting her journey from her investigation into the murder of Cosmos that unwittingly leads to her search for her father who left her mother and her all alone to disappear somewhere in Kalimpong. She goes it all alone to look for him till her journey comes to an end and she comes to terms with her life, walking away into the hills, muttering to herself, "I like it here. It is as if I have reached the stars to reach my father."
Koushik Ganguly's Nagar Kirtan (2018)has handled the delicate subject of a transgender struggling to find his identity in a kothi inhabited by like-minded people – the hijras or the eunuchs. But that too is a lone struggle because he is biologically male and has a female trapped within that body. Is it possible for Punti to fit in? Does he fit in by dressing up as a female, joining a hijra clan, and begging for alms at traffic signals with other hijras of his group? Riddhi Sen's magnificent, multi-layered performance with many shades including a beautifully conceived scene of love-making between Punti and Madhu with their attempts to overcome their awkwardness is a gift to cinema in general and to Nagarkirtan in particular.
Magic realism has turned into Buddhadeb Dasgupta's brand identity, which sometimes tends to dominate and overpower the very core of his narrative. But in Urojahaj, he keeps this well under control. When he does turn to it such as when the friendly ghosts who appear in the jungle to make friends with Bachchu Mandal, their sudden appearance near the small stream is choreographed like a silent mime performance and offers a solid and lyrical sub-plot to the main story. It also brings across some philosophical but tragic truths of life.
Aparna Sen's Ghawre Baire Aaj is a story of conflict. This conflict has remained the same and perhaps has escalated since Tagore wrote it in 1915 and then Ray made it into a film in 1984. Only the manifestations have changed. This inspired Sen to imagine what face this conflict would wear if we place the chief characters in today's India in 2019 following the fiercest attack against committed Left-inclined secularists and rationalists like Gauri Lankesh, Narendra Dhabolkar, Govind Palsare and N.M. Kalburgi in the recent past by Hindu rightists in cold blood. Sen avoids explaining which government is at the centre so the audience is left to draw its own conclusions.
Kaushik Ganguly's Jyestho Putra brings across a conflict between two brothers, simmering beneath the level for many years, exploding, slowly but steadily, following the death of their father, an idealist and communist school teacher, in a freak accident. The older brother (Prosenjeet) is supposed to perform the funeral rites of the deceased parent but it is the younger brother (Rittwik Chakraborty) who, in a sparkling performance, has lived with and taken care of the father and claims the right to perform the rites. The older brother has been away in Kolkata for decades and is now a famous film star. This conflict is brought across against the backdrop of how the impact of a star in their village turns the tables on death and makes the star the "event."
Ranjan Ghosh's Ahaare, his third film, offers a unique perspective on the subject of cooking as a catalytic agent. Between what or who or whom? The film opens in Dhaka, with Shahida, Raja Chowdhury's fiancée, walking out of the engagement because she has got an offer from Christian Dior and wants to go to Paris. Raja is already a successful Chef who is not prepared to accompany her. But all his appeals fail. Dejected and unhappy, he decides to quit Dhaka in Bangladesh and migrate to Kolkata and continue there, giving up an excellent opportunity of a high-powered Chef job. His break-up continues to haunt him till he decides on a wonderful food home delivery service run by a silent and introvert Basundhara. He gets to know her but is confused by her sense of alienation and distancing.
The locus of Srijit Mukherjee's Gumnami is on the Mukherjee Commission Hearings. An investigative journalist, Chandrachur Dhar (Anirban Bhattacharya), comes up with a third theory supported by his group, Mission Netaji. How he tries to convince the law and the land of his findings is what the film tries to show. The best part of the film is the way it explores the journey of the investigative journalist Chandrachur Dhar (an amalgamation of two names – Anuj Dhar and Chandrachur Ghosh – the two journalists who actually brought across their theory on Gumnaami Baba in their book India's Biggest Cover Up (2012). Looking at the film as a cohesive whole, it is the slow and steady metamorphosis of Chandrachur who, when first commissioned by his editor to unravel the Gumnaami Baba mystery, is openly irreverent towards Bose and believes that the man is over-rated, becomes a committed loyalist of Netaji. He buys spectacles exactly like the one Netaji wore and by his own admission, says that he cannot change his stance because he has already worn these glasses and cannot see things any other way.
Atanu Ghosh's Robibar uses the suggestive value of cinema to both narrate as well as describe the story, focussing entirely on its suggestive value to bring out the other two elements of narration and description. This makes Robibar a very niche film the audience needs to concentrate entirely on minus the chips and the popcorn and the ring of the cell phone during the film's screening. In other words, the film gets naturally aimed at a niche audience not really expecting much of narration and description. Robibar is entirely an actor's film and all the actors, big and small, old and new, have performed as if they were born to play these roles. Prosenjit as the bearded, unkempt and middle-aged Ashimava is a living example of the degree of deconstruction an actor is capable of.
Shiboprosad Mukherjee and Nandita Roy's Kontho tackles the very difficult subject of a man and his family's journey through throat cancer which is critical because he is a very famous and popular radio jockey. The entire treatment, the mental agony and its impact on his wife and their little son, the therapist and his relationship with her which is not exactly love and neither it is the opposite in dealt with beautifully and ends with a note of optimism and hope.