28th Annual Conference of Society of Otology (ISO) ISOCON 2019 inaugurated by Dr. Sashi Panja
Ambar Bhattacharya, abptakmaa, Kolkata, 17th Nov 2019 : With a great pleasure it is being announced that the 28th Annual Conference of Society of Otology (ISO), well known as ISOCON 2019, 15th -17th November, 2019 has been held at Biswa Bangla Convention Centre New Town, Kolkata. ISOCON is one of the biggest platforms of India for otologists, the super specialist doctors of Otology, the branch of Medical Science which deals with the treatment & prevention of the diseases of ear of human being.  
In the Inaugural ceremony Dr. Shashi Panja, Honourable Minister, Government of west Bengal, Mr. Debashis Bhattacharya, Director of Medical Education, West Bengal as a special Guest of Honour has been  Graced the occasion by their  august presence with other respectable guests and the renowned national ENT Specialists and national- international faculties and inaugurate the program.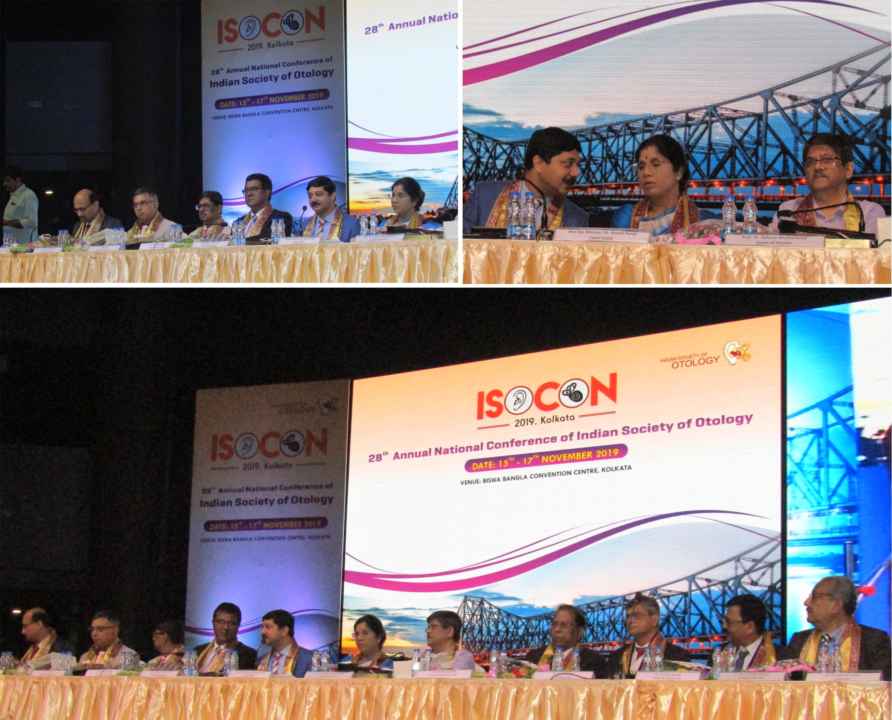 We have faced recently hazards of noise in the festive season of Kolkata as well as west Bengal. Recent evidence based case study on the fire crackers in Dewali in Kolkata show that this festive enjoyment has so increased noise pollution as well as air pollution that a remarkable number of persons are suffering from the diseases of ear. In this perspective this national conference, held in Kolkata, is very much significant.
DR. Dwaipayan Mukherjee, Organizing Secretory, has said that after a long period, ISOCON is being organized in Kolkata and Dr. Mukherjee has said ' the organizer West Bengal Branch of Association of Otolaryngologists of India (AOI) has been proud to state to welcome to more than 1500 delegates coming from almost all states of India and abroad to ISOCON;  we hope we have delivered the best Bengal culture, hospitality and an unforgettable experience to these huge numbers of delegates along with the foreign scientists and legendary faculties.'
'Less pollution and prevention and treatment of diseases related noise pollution' is one of the important subjects of this National Conference. All Pollution is not only a Global Hazard but also it is a growing problem in our country and our city Kolkata too. It is also proved that our auditory system has been affected mostly by the noise pollution in the urban regions. Due to increased pollution, otolaryngological diseases have been increased in geometric progression. Mass awareness is very much necessary along with legal action fordecrease of pollution.
This Annual National conference will focus on Microscopic ear Surgeries, Endoscopic ear surgeries, Cochlear implant surgeries, hands on temporal bone dissection workshop on all the three days, temporal bone dissection competition, ISOCON fellowship, national & International Fellowships etc. Live demonstration and training of the various new evidence based scientific method of treatments, highly interactive live surgical workshops and discussion on the latest technics of the treatments of common as well as rare ENT diseases are the major attraction of the ISOCON 2019 in Kolkata. It will be a great academic feast rich in scientific content.
In Medical science for prevention and treatment, increasing of mass awareness and the discussion on the knowledge of the latest art of technic of treatment & prevention to our physicians, is very much necessary. Such conference is an important step to achieve this goal. Publicity : Relations.