"WALK WITH NATURE AT BOTANICAL GARDEN" – Narayana Hospital, Howrah Celebrates World Heart Day with a Heartwarming Twist
News Editor, Takmaa News, Kolkata, 30th Sept 2023 : A remarkable and heartwarming event unfolded in Howrah as Narayana Hospital, Howrah celebrated World Heart Day in a way that left an indelible mark on the community. In the early morning, under the gentle morning sun, the locale embarked on a transformative journey titled "WALK WITH NATURE AT BOTANICAL GARDEN – Nurture Your Heart with Nature."
The event saw the esteemed presence of Dr. Devendra Singh, Head Scientist E & Head of Operations at the Botanical Survey of India, alongside a select group of guests and Senior Consultants from the Department of Cardiology & Cardiac Surgery.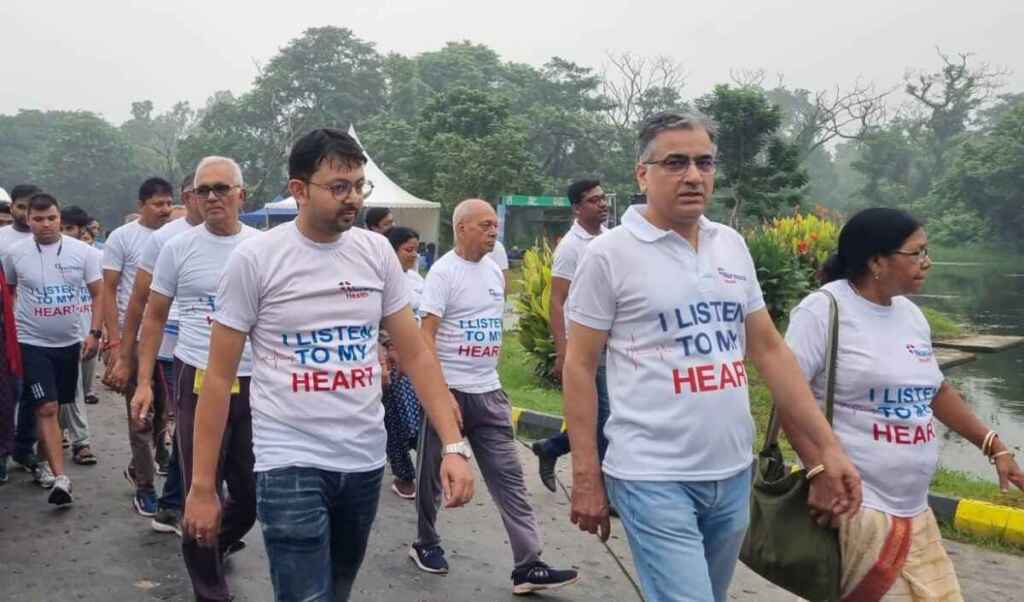 Commencing and concluding at the iconic Great Banyan Tree area, the event witnessed enthusiastic participation from diverse segments of the community, including members of the Morning Walkers Association, Residents' Welfare Associations, Local Clubs, the Local Police Station, existing morning walkers of the Botanical Garden, and spirited involvement from Corporate Houses.
To kick start the morning, doctors, an engaging anchor, and an aerobics trainer orchestrated stretching and breathing exercises, invigorating the participants and setting a positive tone for the walk that followed. The path meandered through the Botanical Garden's serene landscapes, offering participants a tranquil experience amid nature's bounty.
Dr Debasis Das, Senior Consultant Cardiac Surgeon Narayana Superspeciality Hospital, (Narayana Health), said, "Our hearts beat in harmony with nature's rhythms. Today, we stand united, celebrating World Heart Day by connecting with the natural world around us. Engaging with nature, sharing laughter, and embracing positive lifestyle changes are formidable remedies for nurturing heart health. This event exemplifies the power of community in taking proactive steps toward heart well-being."
Dr Bijay Prakash Pandey, Consultant Cardiologist Narayana Superspeciality Hospital, (Narayana Health), said, "Listen to your heart, for it is the rhythm of life itself. On this Heart Day, let us cherish and care for our hearts as we would a precious symphony, nurturing its health with love, exercise, and a balanced diet. Remember, a healthy heart is the conductor of a long and harmonious life."
Mr. Ashim Kumar, Facility Director of Narayana Superspeciality Hospital, (Narayana Health), remarked, "We are deeply honored to have been a part of this transformative event that underscores the importance of heart health and community well-being. Our commitment to fostering heart-healthy living extends beyond today, as we continue to strive for stronger, healthier communities."
Doctors on-site took the opportunity to expound on the profound connection between nature, laughter, and heart health. They shared valuable insights on lifestyle modifications that can significantly impact one's overall fitness and heart well-being.
As the morning sun bathed the Botanical Garden in a golden embrace, this event went beyond the commemoration of World Heart Day; it represented a commitment to fostering heart-healthy lifestyles and building stronger, healthier communities.