Goodyear India unveils new Car and SUV range of tyres
Ambar Bhattacharya, abptakmaa, Kolkata, 24th August 2019 : Goodyear India today announced the official launch of two new products Assurance DuraPlus2 and Wrangler AT SilentTrac for the Indian market.While Assurance Duraplus2 is designed for small-to-mid-sized passenger cars to further meet the upgraded needs of value-conscious consumers, Wrangler AT SilentTrac is tailored for confident SUV drivers with a strong desire for adventure and the freedom to explore with full control over the wheels.
Rajeev Anand, Chairman and Managing Director, Goodyear India stated: "As a pioneer in tyre technology, Goodyear has always been at the forefront of innovation, and continues to push itself to offer a wide portfolio of new offerings that cater to different market segments.We constantly challenge ourselves to develop better products and empower our consumerswith a superior driving experience"
Assurance Duraplus2 features a strengthened TredLife Technology that is optimized for longer mileage with durability and quiet performance, aimingto further empower drivers with the FREEDOM TO GO FURTHER.Following the success of the Assurance DuraPlus, which is known for its balanced offering of mileage and safety, Assurance DuraPlus 2 gives consumers more freedom to explore with its upgraded TredLife Technology benefits, including better mileage performance of up to 110,000 km 1, robust sidewall and reduced noise performance.
Wrangler AT SilentTrac is designed to enhance rugged toughness while delivering a smooth drive, plus an impressive on and off-road handling performance and added resistance without noise. The latest innovation introduces an upgradedDuraWall Technology that withstands rugged off-road use by resisting cuts and tears, allowing versatility for drivers to go off-road at a moment's notice. The improved rigid shoulder blocks and optimized tread pattern design deliver outstanding strength and reduced road noise for a quieter ride, while also resulting in excellent mileage and on and off-road performance.
Commenting on the launch of both the innovative products, Mr. PK Walia, Vice-President, Consumer Business, Goodyear India, said"We are excited to release our latest innovations in the Indian market in order to carter to the evolving consumer needs. Both Assurance Duraplus2 and Wrangler AT SilentTrac outperform their predecessors and we are confident that these new products will empower our consumers to go further.They offer superior benefits to our consumers and provide safe and better a quality driving experience."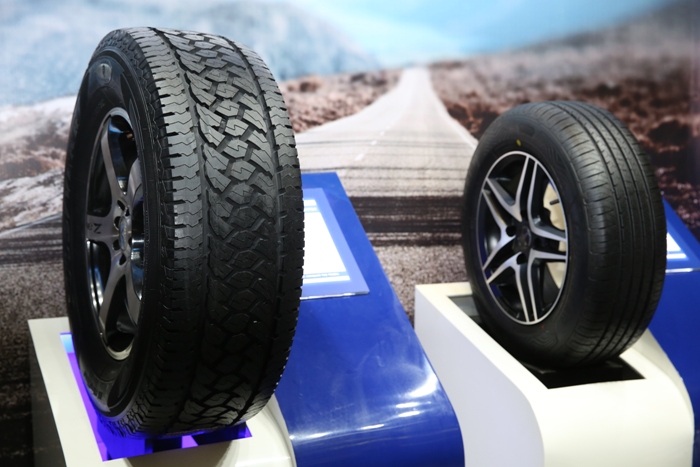 Goodyear Assurance DuraPlus 2 is available in 13 to 15 inchrim diameterswhile Wrangler AT SilentTrac is available in 15 to 17 inch rim diameters.Tyre mileage projection as per tests conducted by Goodyear in Thailand on hard surfaced roads. For sizes 185/65R14 and 205/55R16, average performance of the new Assurance Duraplus 2 is expected to achieve 110,000 km on good qualityroads of similar condition (size 155/80R13 is expected to achieve 99,000km). Actual mileage may vary due to factors including but not limited to type of terrain, quality of roads, vehicle type and condition, tyre pressure and maintenance, climate, driving styles, usage patterns, etc. All tyres are manufactured and sold as per applicable BIS Standards."
Goodyear is one of the world's largest tyre companies. It employs approximately 64,000 people and manufactures its products in 47 facilities in 21 countries around the world. Its two Innovation Centers in Akron, Ohio and Colmar-Berg, Luxembourg strive to develop state-of-the-art products and services that set the technology and performance standard for the industry. Goodyear's presence in India is over 95 years old, with two plants, one each in Ballabgarh and Aurangabad. In the passenger car segment, Goodyear supplies tyres to many of the leading OEMs in India and has been a pioneer in introducing tubeless radial tyres in the market.  In the farm segment, Goodyear is the market leader and supplies to all major tractor companies. Publicity : Eastman Communication.